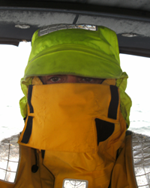 Position 35°54'173N 014°29'871E
Manoel Island Marina, Malta. Mediterranean Sea.
Hi dear friends, thank you for following my journey. Here is this week's update.
 A good week here in Malta.
Life Onboard:
Sunday afternoon was the day of the 'P1' power boat race off Valletta, the pit and the 'P1' girls were both located down by the waterfront development. It was a very short event, and in fact we arrived too late for the race however the 'P1' girls were still their as were the boats being craned out of the water and put on there trailers. The rest of the day was for goodbyes, goodbyes are always hard this time it was the time for several of Tuna boat owners to leave Malta for the Tuna season was upon us. We all got together for a few fair well beers at the 'Blue Grotto', then someone came up a great idea. Okay, great ideas after several beers always sound like great ideas, it's not till the following day you ask yourself why! This would be no different as we toured all the 'laptop' clubs and almost every known bar I returned back to Pint some twelve hours later. 04:20hrs (local) Tuesday morning!
Late Tuesday afternoon I received an urgent call from one of the Tuna boats, they had a problem with one of their computers. A quick lift down to St Pauls Bay, a boat ride out and within ten minutes all was working okay.
My friends who own one of the Tuna boats here donated yet more diesel, 180 litres, that's 280 litres in total. After filling up my tank I still had have six 'Jerry' containers full, these have been safely stored away.
The part I have been waiting seven weeks finally arrived here on Friday, the rigger has been arranged to fit it next week. Hopefully, weather permitting I shall leave Malta within the next ten days.
The Boat:
You may recall I removed the windvane steering gear 'block' and associated fittings a while back. This week I finally got around to roughing up, then cleaning with Acetone before applying 'Gelcoat'. Once dry, rubbed down and as it should be, it's hard to tell where the fitting were.
Fair winds, calm seas.
David.