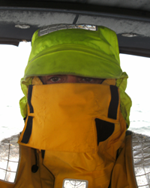 Position 35°18'746S 174°07'426E
At anchor off Opua, North Island, New Zealand, South Pacific Ocean.
Hi dear friends, thank you for following my journey. Here is this week's update.
Hope the by now you are all once again receiving the weekly updates.
Life Onboard:
It has been an interesting week here with a minor hurricane off the to the East giving 70kn winds off the coast and around 50kt winds here. A few sleepless nights as I had the anchor drift alarm set a little tight so to give me plenty of warning should the worst happen.
After 61 hours of constant rain and strong winds life started getting back to normal here in the anchorage. A little drive around the bay on the way into town showed us just how bad the weather had been, a cat's mooring broke, she ended up on the rocks.
Once craned off and placed on a trailer it was easy to see she was a right-off. Starboard bow missing, well to be honest 60% of the bottom was missing from both hulls, no rudders, propellers, well very little really.
The Boat:
Little work carried out other than chasing around for new battery prices, it has been to windy, wet to venture ashore with
the dinghy being full of water every day despite bailing it out daily.
Fair winds, calm seas.
David.