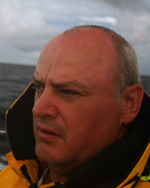 Position 09°33'154S 120°20'333W
South Pacific Ocean.
Hi dear friends, thank you for following my journey. Here is this week's update.
On day 23 of this voyage with 2,104Nm covered, 1,000Nm of that I have been running under the Genoa only, this has seen my daily mileage drop from 170Nm to around 108Nm. Hourly that's seen a drop from 8kts to around 5.1ktn.
Today at 15:07hrs (GMT), Saturday the 26th May I still have another 1,171Nm to go.
Life Onboard:
Everyday is now the same for I am set into a 24hr routine. There is little to report this week other than a vessel, SV Pagos lost her forestay 240Nm NE off Easter Islands, some 1,100Nm away. Being a 'WinLink' user I was asked (by the armada) to locate any vessels near her encase they maybe able to offer either mediate assistance, or have an spares onboard they might be able to use.
After three hours on 'winlink', the closes vessel was Pinta. I emailed a list of spares that I have to see if they would be of any use to them.
I resumed fishing on Tuesday after running out of Mahi Mahi, within a few hours I landed a rather nice sized Wahoo, my first ever. Once cleaned and filleted I now have enough fish for another ten days. Fishing has stopped until that has been used up.
For the fist time during this passage I broke out some beer out, having two cans the other night while chilling out listening to music during another stunning South Pacific Sunset.
The Boat:
The only remaining problem is the one, which is slowing me down, the Port, Aft, Inner shroud.
Fair winds and calm seas
David.