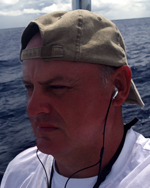 Position 07°55'251S 014°24786'W
At anchor, Georgetown, Ascension Island, South Atlantic Ocean.
Hi dear friends, thank you for following our journey, here is this weeks update.
It has been the usual Ascension week, all very chilled out and easy going however for us it has been a week of making new friends. Although the part should be here late this Monday the new friends we have made have all offered there services should the need arise, two are pilots who fly the military flights that bring in the mail. They have offered to carry any parts we need through with them so all I have to do is get the parts send to the air base. The other new friend is the chief engineer on the rather unique merchant ship, which has been anchored here since Christmas day. For reasons for security I cannot tell you what her or her sister ships carry or do but needles to say you cannot go within 200 metres of this ship otherwise they open fire at you!. The chief has made me some fittings enabling me to make an emergency repair more effectively should this ever happen again.
The rest of the weeks has been a good one, more so with Manchester United beating Liverpool one nil today.
Life Onboard:
We are starting to get Pinta ready for sea, tidying and cleaning etc.
The Boat:
Apart from the above no works or repairs have been carried out this week.
Well that is it for this week, hopefully this time next week we should be on our way to Brazil but here I have leant you cannot count your chickens before the eggs hatch so watch this space.
Fair winds and calm seas.
David.