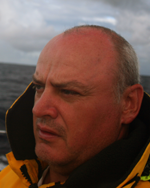 Position 19°30'490S 177°51'480W
On-route to Fiji.
Hi dear friends, thank you for following my journey. Here is this week's update.
After spending a few weeks cruising around the Vava'u Island group (Kingdom Of Tonga) it was time to depart and head for Fiji.
We are currently on day three of our passage and expect to arrive tomorrow.
Life Onboard:
We spent the first half of this week continuing our sailing around the many islands here, the highlight, seamanship wise was an eyeball navigating through a reef in 28kn of wind and rain then sailing all the way up to the anchorage located off the town.
The channel was only 3 times our length, tacking right up to the cliff, going about, then tacking when the channel markers were centimetres away. Some good, close quarter tacking for the next 45 minutes then sailing through the mass of anchored vessel before dropping the main, followed by the anchor. A good days sailing.
Ourselves and SV Oasis have been doing this all the time during our sailing around Vava'u, we both have been sailing since our early teens. After several evenings of good byes during the yacht clubs 'happy hour' we stocked up in readiness for our sail over to Fiji.
Within an hour we had a mother and (baby) calf Humpback whale frolicking a few meters off our starboard beam. A truly wonderful sight to see. Tonga estimates that around 750 whales come here to mate and give birth.
On Saturday we caught a nice 30lb plus Dorado, enough to last for 16 meals!
The weather has been okay, slightly British in that it has cooled to around 28C and a little damp in the air.
The Boat:
The temporary lashings to hold the self-steering blocks were re-tied in readiness for our departure.
Fair winds, calm seas.
David.