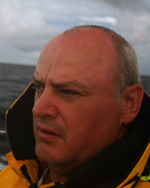 Position 03°24'054N 082°38'999W
Pacific Ocean on-route to the Galapagos Islands.
Hi dear friends, thank you for following my journey. Here is this week's update.
As temperatures during the night plummeted to 21°C, for the first time since August 2005 I had to breakout out my thermal 'teddy' layers. This light thermal layer would normally be worn under you foul weather gear on this occasion just them would be enough. Well for the first night. Arrrrr, that's better, nice and warm again.
Life Onboard:
It seems a long time sine last sending out an update, for light, cyclonic winds have made this a long passage. Last night I covered 74Nm, that's more then the last three days put together. With a nice 23kn, gusting 27kn blowing all night it was a good sail, it has been a long time since I have sailed through a lightning storm. Explosions everywhere, a wonderful sight.
For those who may recall my last visit to a doldrums area, i.e. the 'doldrums' themselves. I hated ever minute of it, hot, hot and hotter, nothing to do but wait. This time forget all that it was worth any amount of suffering for.
As Pinta moves gently upon the Ocean I go topside only to be amazed, I have become accustom to seeing piercing stars light up the nights sky, the shear beauty; I always remind myself how privileged I am be able to just to lay here and admire the heavenly bodies, however this was going to be no ordinary night sky. I was 250Nm out in the Pacific Ocean and with no light pollution so you would expect to see such a sight but there was more in store for me on this night.
As Orion slowly moves above me, too early for the moon, the sea was partially lit up by light reflecting off the international space stations huge solar array, now that that you have read this far into the book you may recall me mentioning about the international space station before. Well you can now forget how amazing that was, and indeed being an avid reader of this book you know doubt will also recall me mentioning phosphorescence. Once again you can put all that to one side for what I was about to see I, no, not even now, I remain speechless.
This calm Pacific Ocean, so still, a beauty in its own right revealed to me the reflection of the stars above. Yes, the sea was so still, not a breath of air, not a ripple upon the mighty Ocean, just the twinkle, the reflections from the wonders of the heavens above revealing another side to them, often hidden. Yes the stars were being reflected upon the Ocean while Pinta lay on a carpet of bright green phosphoresce.
Such wonder, overwhelming, almost too much for one person.
Ok, onwards we go…  so far I have covered 473Nm since leaving the Pearl Islands, I have approximately the same distance to go.
I have fresh (if you can call it that) bread to last until Tuesday, after which it will time to bring out my faithful bread tin and start making my own once again although I hope to arrive in the Galapagos Islands on Wednesday, weather depending.
I have seen more sea turtles this week than in all of my two years in the Atlantic Ocean, I Plan to spend around two years in the Pacific Ocean so if this week has been anything to go by it's going to a wonderful place.
The Boat:
Only one problem onboard and as you would expect being the furthest away from any spares you can be now that I am in the Pacific, a small, booster water pump has failed. I fitted this pump to supply a constant feed to the water maker pump because that pump is above the water line.
After stripping the pump down it looks like the brushes need replacing, this I cannot see me doing until November when, I hope to arrive in New Zealand. Like most things onboard before leaving for this voyage some 639 days ago now, I built in many backup or interchangeable systems. For example all the water, be it bilge, shower tray, fresh water pumps are all interchangeable so should one fail I can change it over from a less important system. In this case I will remove the hoses from the shower tray pump and plumb in the hose's from the booster pump in to that, in this way I will be fully up and running once again.
As for the shower pump, well I always use my faithful solar shower so for those who were worrying about the odour onboard, do not. For us rough tuff sailors can cope, yeh right (laugh), good job I am on my own then (laugh).
Fair winds and calm seas.
David.