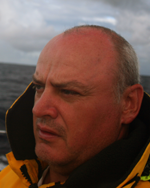 Position 08°04'198S 034°52'386W
At anchor, Recife, Brazil.
Hi dear friends, thank you for following our journey. Here's this weeks update.
It has been a good week with some high points and a few lows but all in all it was nice to be back sailing. The deep blue sea, the darkness of the heavens above only enhanced by the billion of stars out this week. Truly beautiful and this is really the first time we had the opportunity to see the sky of the southern hemisphere. A shame those down below lack originality when naming the stars, for examples we have the southern cross, ok that ones aloud but then we have the southern square, the southern triangle, the southern fish, the southern crown, come on guy's where's your originality.. only joking 'spaceman' I am sure the northern hemisphere is just as bad except; we are the rugby world champions ha ha.
As for the low points, well one has been an injury I sustained in my left arm. This happened on Christmas day, I had better explain.. If you visit the web site (www.sail360.info) and go to 'multimedia' then 'photos' then 'Album – Ascension' you will see a photo of a line of boats secured between two yellow buoys. When mooring the dinghy you secure it to this line, in turn there is a 'skiff' (a small dinghy) secured between this line and one leading to the landing steps. Once your dinghy is secure you get on the 'skiff' and pull yourself up to the landing steps. Now, all you have to do is grab on of the lines hanging down and to a 'Tarzan' impression as you swing / climb up to the landing stage. There is another photo in the same album taken from the landing steps, it's the one with the beach in the background and some lines hanging down in the foreground.
On Christmas day the swell was well over 3 metres, which meant the sea was either one-metre below the steps or two metres above them. The trick is all in the timing as Woody found out on many occasion for he would often leave the 'skiff' just as the sell was coming in, this meant that he would land on the steps at the same time as the wave was coming in fast. By the time his feet touched the ground the wave was already up to his waist. Anyway back to what I was saying. I had to hold the 'skiff' just off the landing stage (otherwise you go swept against the rocks to the left) for some twenty minutes (with my left arm while trying to grab a climbing rope with my right arm) before the timing was right, hence I have either turn a muscle, ligament or similar.. Since that day the arm has been useless but the problem was agitated more as I would do the bread run every day following the same procedure as above, so it really did not get a rest. On this trip I have had to sail just using my right arm, it has proven difficult but there's or Doctor or Nurse (shame ) that you can call on, out here you just have to get down and do the job. So it that I am looking forward to some R&R while in Recife.
Brazil:
The plan is to stay here for the festival starting tomorrow this weekend (going on for 4 days), it's their Mardi Gra. Late February we will be heading for Trinidad as their carnival starts in mid April and we would not want to miss that one ϑ it's an all weekend job! After that we need to hang around that area until the hurricane season moves away so, three months in Trinidad and Tobago then three months in. Okay let's see if you can find out where we will be going, I will give you one clue, It was formally known as the 'spice Island'. We will spend three months their then move into the Caribbean for seven months.. I know what you must all be thinking, it is a tuff life out here and you would be right but then someone has to do it.
Life on board:
When on these sailing trips it is amazing to think that the two of us only say a few words to each other during the whole trip, you get up 15 minutes before your watch starts, get ready then say a quick hi, how are things then the other person turns in and your on your own again. Strange life out here! These two weeks we had so much fish it was unbelievable especially when you thing my crew did not like fish. ha ha ha they do now! I am getting in to the Wahoo and Tuna in a big way, I will be upgrading my fishing gear to some serious bit of kit when I get to the Caribbean, I will also be fitting a smoker and BBQ there.
The boat:
Pinta has done well this week in particular the steering. It felt like steering a new boat, so light and responsive but then again you now what they say, a ship is like a she, it takes an experience man at the helm to handle her' ϑ sorry girls but alas it is true…
PLEASE NOTE WE ARE STILL RUNNING ON LOW POWER UNTIL WE REFIT THE WIND GENERATOR ON THE 16/02/2006 SO EMAIL WILL COLLECTED EVERY THREE DAYS
Well that's if for now I hope all of you are okay, take care of yourselves.
Fair winds and calm seas.
David.