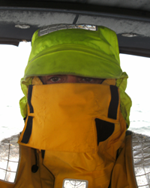 Position 22°43'820N 020°50'913W
206Nm NW off Mauritania
429Nm out from Santa Cruz
415Nm to Cape Verde Islands
Hi dear friends, thank you for following my journey. Here's this weeks update.
As we enter week eight of our journey, again my apologies for not sending out many messages before now this is due to the amount of mast in Santa Cruz they act as a shield and stop the reception and transmission of H.F. radio.
I fitted the new wind generator on Tuesday just before we departed Santa Cruz on Wednesday morning and its working okay. Difficult to tell how good as we have been on a run now for the last 400 miles so it's only working on apparent wind but still a few amps an hour is welcome.
The Canary Islands, a reflection.
The islands are made up of stunning scenery with dramatic land scenes everywhere and the locals are very friendly, so much so that during our stay we managed to borrow half a gallon of BBQ sauce from Mc Snorleys bar in Puerto Calero and while in Santa Cruz awaiting the construction of the bracket for the generator we were getting charged local rate at our favorite bar and restaurants. Cannot be bad!
Well by now we are well over half way to Cape Verde and should arrive there on Tuesday morning having so far winds from the ENE at 12-20 gusting 30kn and a sea swell of 3 meter's. We have encountered only one lonely dolphin today, about eight whales yesterday and turtle as we left Tenerife Well that's if for now I hope all of you are okay, take care of yourselves.
Fair winds, calm seas.
David.