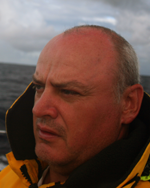 Position 36°08'935N 005°21'321W
Gibraltar, Atlantic Ocean.
Hi dear friends, thank you for following my journey. Here is this week's update.
A people proud to be British, a mini England
Life Onboard:
The week begun with my arrival in Gibraltar on Monday, as I rounded Europa point the propellor became fouled. A length of 12mm poly-prop (with anchor and chain attached) had got a little too friendly. Having lost the ability to maneuver I quickly set the anchor, moments later a coastguard Rib which was on the way out diverted to make sure all was okay. I contacted the port control, who in turn send out a police rib. They were unable to tow me in due to their outboards so they asked for another vessel to be sent out to tow Pinta in. So it was with one police launch towing and a rib escorting us, Pinta entered Gibraltar.
The next few days were a little frantic as I tried to arrange to get the propellor cleared however Monday being a bank holiday (Queens birthday) there was no chance. Tuesday came and the propellor was cleared. I also contacted the sailmaker, who was just about to get on a flight back to the UK for a few days, returning on Thursday. We had a quick chat and after explaining the damage to the mainsail it looks like it will have to be sent to their main loft in Malaga.
The week ended with SV Nomad life entering Gib, friends I first met in the Galapagos back in 2007. Since then we have met up many times, the last being in Darwin 2008. Needles to say Friday was a lost day spent, well, just getting very drunk with good friends. Saturday was a day spent lounging around recovering .
The Boat:
The fouled propellor was cleared, at the same time I took the opportunity to remove, clean and inspect the propellor before refitting (well it was about to fall off ).
I carried out some preventative maintenance, the heads pump were stripped down, cleaned and refitted.
Fair winds, calm seas.
David.