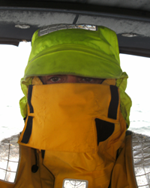 Position 00°57'830S 089°42'686W
South Pacific Ocean.
Hi dear friends, thank you for following my journey. Here is this week's update.
With the Enchanted Islands now in my wake, departing at 14:35hrs (GMT) on Sunday 6th May for what will be the longest leg so far. A 3,100Nm or thirty days at sea, my destination is 'Tahiti Nui' or to be more precise the 'Marquises' group of Islands.
'Tahiti Nui' formally known as the 'French Polynesia' area of the South Pacific.
Life Onboard:
It has been a week of socialising spending more time on other peoples vessels than my own, spending only two nights onboard. I met up with a few friends who came through the canal at about the same time as myself. Then a few new vessels arrive. The problem being the water taxi service stops at 19:30hrs so once out and about its finding whatever transport you can to get back to at least one vessel.
It has been a good week here yet also a sad one for this a wonderful place and I am sorry to be leaving.
I left with 17kn but soon disappeared down to 6kn. The normal practice is to sail SSW to around 3 or 4 degrees south then pick up the trade winds. This was also my plan but I am following the weather patterns closely and it may well be better to stay further North where, at present there is wind. At between twenty and forty South there is showing no wind.
The Boat:
The problem with the priming pump returned this week so after looking around ashore I managed to bye pass the pump and the system works fine albeit I can not make water while underway unless on a Starboard tack or Heave-to.
Fair winds and calm seas.
David.