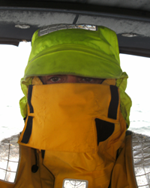 Position 04°51'490N 005°06'938W
29.7Nm off 'Sassandra' – Ivory Coast.
42.6Nm off 'NZI' – Ivory Coast.
64.0Nm from 'Abidjan' – Ivory Coast.
Hi dear friends, thank you for following our journey. Here's this weeks update.
As I write this we have just become becalmed after passing through one of the biggest lightning storms so far. I hope the wind will return once it has passed.
Life on board;
Morale has been a little low this week what with the forestay parting then having to head 580Nm away from our intended destination. We had no choice really, as you know we were on route to Cape Town via St Helena (or Ascension) but without a proper forestay it would have been silly to press ahead pounding into 25 – 28kn of wind. The load stresses on the temporary rigging would be too much, the wisest thing to do would be to keep the wind on our quarter, in that way the remaining rigging would be able to support any wind within reason. As luck would have it this would also mean the sea would be on the quarter too.
We had two choices as there are no marine supply outlets this side of Africa, we could either return to the Canaries, some 2,000Nm behind us to make the best of a bad situation. I opted for the later by locating a port nearest that would have the necessary infrastructure to enable parts to be sent from the UK.
All the information i had indicated that either the Ivory Coast or Dakar (Senegal) would be the only two choices, as the Ivory Coast was closest by some 500Nm at only 580Nm away i opted for there, the port would be 'Abidjan'. It was the capital of the Ivory Coast, it has a modern city which should mean a good infrastructure as well as the airport not being too far away. This has daily flights too, and from mainland Europe and importantly for us London.
I spent the next three days in contact with out shore based support team for contact information regarding replacement parts, these were dually found. Once in port all we have to do is supply a mailing address and the parts would be here within nine days.
Water consumption is holding up well with an average of 8ltrs per day being used, we have used the forward tank and have enough in the aft tank for another 20 – 30 days plus 50ltrs in 2 jerry cans. While the flour should last until Tuesday tea time. We hope to be in 'Abidjan' by then.
Woody caught a 'trigger' fish which in turn decided to bight him for disturbing his day. We have finally found a possible answer as to why flying fish fly or at least what they are flying away from.
We had two very strange fish pass us by, one neon green while the other a very bright neon blue. They were riding the crest of the wave, the usual place where flying fish jump clear off the water. Flying fish manage this by harnessing the power of the wave once 'air bourn' they land on the crest of another and with a flick of there tail propel themselves in another direction. Using this method they travel well over 200 metres.
We were also surrounded by around 100 plus dolphins, they altered there route to pay us a visit and all you could see for at least 600 metres in any direction where dolphins. In fact in one direction for at least a mile. Dolphins often pay us a visit and indeed we see them most days however the other night was different for a small group first came to play, singing and dancing as they do. So it was no surprise when they left after some twenty minutes however they kept return through out the night, every 30 – 40 minutes, staying for ten minutes or so then off they would go. This happened for well over six half hours right through the night. One got the impression they were concerned about us and so just kept coming back to check we were ok.
The other unusual sight this week was a rather large 'Manta ray' which decided to leap a good metre clear of the water. These are not small fish!!
Sailing;
We have had a frustrating week with light winds (6 – 10kn), i have opted to use some fuel up by motoring when becalmed to ensure we got around 'Cape Palmas' otherwise this would mean a trip back to the Canaries for us.
The boat;
Apart from the forestay as previously mentioned the only other problem this week was with the cooker, the forward gimbal gave way. On investigation it was purely ware and tare. We chocked the cooker up to make it useable and will carryout repairs once in port.
Well that's if for now I hope all of you are ok, take care of yourselves..
'Sweet dreams until sunbeams find you'.
Fair wind, calm seas.
David.