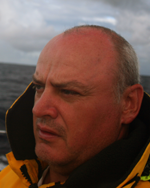 Position 51°19'786N 001°25'107E
Ramsgate Marina, England, United Kingdom.
Hi dear friends, thank you for following my journey. Here is this week's update.
Pinta, a circumnavigation, a voyage of inspiration, hope and adventures enough for many lifetimes!
Life Onboard:
After one of the most chill out weeks I can recall staying at Joe, his wife, Jo and their family, it was time to depart Spain and make our way home.
I had spent the week watching the weather waiting for a window to cross the Bay of Biscay. Such an opportunity arrived on Saturday, after an emotional farewell in Sada Pinta departed for her last passage on these voyages.
With little to no wind I motored for the first 36hrs, then a gentle 14kn arrived and we were sailing once more. I was lucky enough for the weather to hold until off Guernsey where a frontal system came through bringing 22 – 27kn gusting 34kn from the West, ideal for sailing back home in.
Friday morning as the sunrise, the heavens, golden bright, full of light as the white cliffs of Dover came in to sight. I took a moment to recall the poem 'Dover Beach'.
Before departing Sada [North Spain] I sent out emails advising Friends and Family that plan to arrive at the Royal Harbour [Ramsgate] on Saturday, this was so they would not have to take time off work to see Pinta arrive back in her home port.
Arriving twelve hours ahead of schedule I anchored in 'the small downs' off Deal on Friday evening. Cleaned ship before turning in for well needed sleep, I had been sailing without sleep for the past three nights!
Up with the sun, Pinta awash with bunting, curtsey flags from a few  of the places Pinta had visited were flying high. The United Nations flag flying from the forestay. Weighing anchor, slowly we made our way the 10.2Nm to the Royal Harbour, arriving as planned at 07:00hrs (GMT). Moments later Pinta was swamped with visitors. Shortly thereafter we moved her in the inner harbour where we were joined by more friends, several beers and a bottle of Champagne followed. Indeed the celebrations carried on all day.
The Boat:
On Wednesday a problem developed in the charging circuit which joins the engine and domestic batteries together so they both charge whilst the engine is running. As always these problems never happen in, daylight, it was 01:30hrs (GMT). It had been blowing all after noon, a slop of a sea was now running. Somewhere there was a faulty or loose connection however due to the weather conditions I was unable to chase the wiring through to locate the fault, a quick 'hot-wire' job was needed.
I do not need the water maker this close to home I moved the wires that energise that relay over to the 'charger' relay. The switch on the distribution panel that use to turn the water maker on now joins the two batteries banks together for charging. A 'make-do' until Pinta receives her min refit when back in her home port.
Fair winds, calm seas.
David.