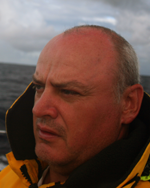 Position 35°18'746S 174°07'425
At anchor off the Opua Cruising Club, Opua, North Island, New Zealand, South Pacific Ocean.
Hi dear friends, thank you for following my journey. Here is this week's update.
As usual by now, weekly updates are intermittent when sailing due to having no email onboard still.
Life Onboard:
The week started with me on a mission to copy video from my camcorder tapes on to DVD, later that evening we had a pâte soirée onboard SV Tahaa with Claudia, Lizzi and Norbert.
On Monday we had a few drinks with our friends before departing for Opua, after a few hours motoring down stream we anchored for the night at Urquhart's Bay, a tranquil setting surrounded by lush green hills and valleys.
Up with the sun and onward North, walloping around in light winds abaft the beam (from behind the boat). Due to slow progress I surveyed the chart and found the most special, hidden anchorage so far during my sailing here in New Zealand, a true 'natural' anchorage offering good protection in most weather. A choice of anchoring in 10m to 5m deaths overlooked by stunning green hills once again, several beaches all around to choose from to, well, just lay on the soft white sand and watch the sun set. Alas the only company I had was my fellow crew, David, 'O' to have swapped him for a nice girl and this setting would have been perfect!
Once again up with the sun, this magical golden hour where yellow beams of light gently breaking through the clouds, caressing the sea as they warm wavelets ruining along Pinta's, hull, the wind, abating, a moment in time captured for ever. This moment will etched upon in memory, a moment to cherished in years to come. Alas as we motored along the wind still showing a lack of interest the clouds darkened their grip upon the heavens, rain in the distant however for us, we were, as usual by now 'Chasing down the sun' on our way to Opua. Rounding Cape
The Boat:
A resupply mission was arranged within the shopping area, parts for the electrical / plumbing system were obtained. Later during the week the heads failed, the problem was isolated to the discharge pipe work, this was removed and overhauled.
Fair winds, calm seas.
David.