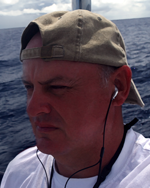 Position 35°18'746S 174°07'429E
At anchor off the Opua Cruising Club, Opua, North Island, New Zealand, South Pacific Ocean.
Hi dear friends, thank you for following my journey. Here is this week's update.
Pinta covered in morning due, delicate bubbles of water laying upon her newly oiled teak seating, the sun rising between the hills with golden rays of light gently warming the sea, stretching from afar, across the bay towards the anchorage. This all paints a rather romantic picture, the truth however being somewhat different for it is becoming harder and harder to pull ones self out of ones bunk, wrapped up cosy as I am in my -21°c sleeping bag. Jumpers, jeans and socks which have not seen the light of day for almost three years are now out of retirement.
Life Onboard:
A rather late night Sunday meant a lay in was in order for Monday, thereby a rather lethargic, easy day onboard. In reality, we, were off course planning the week ahead and taking it easy, building up reserves for the busy week ahead.
The beginning of the week and eagerly we started getting Pinta to the final stages of readiness for the next leg of our voyage upon life's ocean. Rope, rope and yet more rope was purchased. A chart covering North New Zealand to Brisbane and the Coral sea was also purchased. Although I use electronic charts for coastal passages I always use paper charts for off- shore passages, taking my GPS position, barometric air pressure and weather conditions such as wind, sea direction and strength, also cloud type and cover. In doing this should I loose power I can always navigate by DR (Dead Reckoning is the process of estimating your position by advancing a known position using course, speed, time and distance to be travelled. In other words figuring out where you will be at a certain time if you hold the speed, time and course you plan to travel) and, or astro navigation using such heavenly bodies as the sun, moon and the wonders, which I fall in love with every night after night, the stars.
The weather observations are taken so I can, with reasonable accuracy foretell the next few days weather patterns should I be unable to download the weather fax images.
As the week comes to a close we are getting ready to go sailing for a few days however not before hosting a candle lit supper with some good friends onboard, accompanied by a few bottles of red wine and chill out music playing in the background. As it became time for my guest to depart, and, as if by magic the stars decided to shine as one would normally only dream they could. All in all a perfect end to the working week here in, Opua and the land they call 'gods own country'.
Saturday we departed Opua for a sail around the BOI (Bay Of Islands) a stiff breeze was forecast. We had with Easterlies of around 20 – 25kn gusting 33.7kn which gave us a cracking sail until anchoring at Parekura Bay, a quiet little bay fully sheltered and good holding in around 5m of water. Once anchored we had a very nice evening meal consisting of my by now legendary bolognese source accompanied by a lovely bottle of chilled Lindeman's 'Cawarra' white wine.
The Boat:
After eight years the Mainsail, halyard, 1st and 2nd reefing lines are showing signs of ware as was the two year old Genoa furling line. These were replaced by stitching the new to the old then pulling them through the respective mast / boom therefore making it easier than trying to run them through from scratch.
The engine and gearbox oil was changed as was the engine oil filter. Thursday was try something new day, well it was for Caitlin for as usual the lightest person is always sent aloft, Caitlin, who has never been aloft was volunteered to do so, after all in one's life you should always try something at least once. In the end Caitlin went aloft 3 times that morn- ing, once onboard 'PINTA', the other two times was onboard her own vessel, 'Kleinen Bären' (Little Bear).
The reason for going aloft on Pinta' was to confirm whether one of the H.F. Insulates has failed for these are the only items which have not been checked whilst trying to find out why I have such a high VSWR (Voltage Standing Wave Ratio – The ratio of the maximum to minimum voltage on a line. VSWR is a measure of impedance mismatch between the transmission line and its load. Since there is always a small loss on a line, the minimum voltage is never zero and the VSWR is always some finite value) and therefore unable to send emails from onboard. We used a simple continuity check by placing a current at the bottom and top of the insulator, if a circuit was made then the insulator had failed, thus I was radiating energy through the mast and associated rigging. This was also being reflect back towards the backstay / antenna therefore effect- ing the signal being sent from the antenna.
The compass light was also found to be faulty and was replaced at a cost of $11.50.. Wow what a price, so okay on the up side I am well known here and can now obtain Mrs Macs steak pies duty (GST) free, although I am not sure how customs will view that, for me after a long walk to the chandler from the dinghy dock which is located at the Opua Cruising club wharf some 500 metres away, there is nothing more satisfying after a brisk stroll along the quayside during these colder mornings than a nice warm Mrs Mac pepper steak pie for breakfast, great value at $2.50 GST free… YES!
The liferaft harness was de-rusted awaiting its return early next week
The starboard side teak seating was cleaned and re-oiled.
The Port self steering line where it is attached to, and feed up to it's wheel was adjusted so to reduce chaffing. Both lines cross at this point and so are touching each other. A small rope grommet was made and inserted on one block so to raise it a few centimetres, thus clearing the Starboard line.
The dodger had its clear plastic widow replaced due to UV dam- age while in New Zealand.
Fair winds, calm seas.
David.