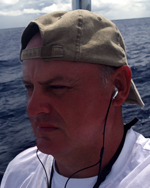 Position 35°18'746S 174°07'540E
At anchor off the Opua Cruising Club, Opua, North Island, New Zealand, South Pacific Ocean.
Hi dear friends, thank you for following my journey. Here is this week's update.
As the time to leave New Zealand comes ever closer, so the time to carry out a muster of ships supplies for I do not want to take too much with me during my passage to Australia. Their, they are very strict about what you are aloud to land. I have been running down my spice, herb and other nice mix- tures onboard so to arrive almost empty.
Life Onboard:
A nice roast lamb dinner at the cruising club and a semi early night started off this week and to be honest set the pace for the remainder too for though many more boats have now arrived in Opua, several had departed this week with a stable weather pattern now in place.
The last few updates to Pinta were carried out, she, like me eagerly a wait the recommencing of our voyage upon life's ocean, sailing once more towards sunsets and warmer times. A time upon the not too distant horizon where I can stow away my -21° sleeping bag, woolly socks and break out t-shirts and shorts once again is not far away, YES!.
The liferaft was returned to me after being serviced. For the sailors among you I have added to this weeks update the service information below.
| | | |
| --- | --- | --- |
| Description | Quantity | Price |
| Label date wheel & arrow | 1 | NZ$ 1.66 |
| Label lifeguard address | 1 | NZ$ 3.25 |
| Bands and crimps (Seasava's) | 2 | NZ$ 23.80 |
| Red hand flare art 1328 | 3 | NZ$ 57.75 |
| Hydrostatic test CO2 cylinders | 1 | NZ$ 77.00 |
| CO2 / N2 cylinder charge | 1 | NZ$ 48.00 |
| Phenol test liferaft | 1 | NZ$ 11.55 |
| Battery D size Alkaline | 4 | NZ$ 17.12 |
| Tablets anti-seasickness 60s | 1 | NZ$ 14.65 |
| Servicing sundries | 1 | NZ$ 15.75 |
| Tape black adhesive 10mtr roll | 1.3 | NZ$ 10.88 |
| Survival rescue sheet | 2 | NZ$ 20.58 |
| Lifeguard vacuum bag | 1 | NZ$ 125.00 |
| Tape do not cut | 2 | NZ$ 3.08 |
| Recert fee lifeguard | 1 | NZ$ 335.00 |
| Total | | NZ$ 765.07 |
My guest for the past few month's, David departed Opua at 01:30hrs (Sunday) via car to Auckland where he will then fly back to the UK. The sailing community to whom I often refer to as 'my family' are very friendly people, David has made many good friends during his stay and so it was arranged to have a going away drink. However the cruising club was closed on Friday as it was ANZAC day so a little excursion to the 'Road runners' bar was arranged. There were around twelve of us merrily getting worse for ware that night, good music, good food, beer and friends made for a most excellent night.
As my weather watch continues to monitor the development of lows around the Tasman sea, my original departure day, Saturday is looking good. This week however as you can see via the above link looks somewhat interesting. Also for the first time for what seems a lifetime I will have crew on the voyage to Australia, Lizzi a friend of mine, Seth, SV Heretic old crew.
She will joining Pinta this coming week as will Caitlin. What shall I do with six hours downtime…
The Boat:
On unwrapping the liferaft I found the canister to be damaged, a little repair work with some gel-coat and all was back as new. I took some photographs of the area's and emailed them to 'RFD' New Zealand. A new securing strap was made out of 6mm three strand nylon, an eye splice in each end securing to the cradle while a cut splice made an eye connected to a Pelican hook or as it was called in my day, a Sen-house slip.. This in turn connected to the hydrostatic release unit.
Self-steering gear, an extension comprised off 1m x 12mm fibreglass rod and 3cm of rubber hose. The old fitting was removed from the self-steering unit, an 8cm section of fibreglass rod was inserted and secured, on the other end the 3cm rubber hose was slid over the rod end secured by a 2mm nut and bolt. The remainder of the fibreglass was slid into the other end of the hose, again secured by a nut and bolt, in reality creating a universal joint.
A small plastic retaining clip was attached with whipping twin to the radar post support bracket, the cockpit end of the fibreglass rod clipped in to this. I can adjustment the self-steering unit without stretching over the stern. The plastic clip also enables me to quickly move the whole arm out of the way should I need to get to the liferaft, thus keeping that area clear to work should the need arise.
The inner wheel to which the lines from the self-steering system connects to was removed, repairs carried out, painted and refitted.
The two new gas cylinders purchased during my stay here have been painted with New Zealand's version of Hammerite to restrict / delay rusting. Unfortunately the colour is black, I initially purchased this paint to be used on the engine mounts, which have been de-rusted, cleaned and painted.
The ATS100, amateur radio compact H.F. antenna was installed to enable me to receive weather faxes however I was unable to get the VSWR low enough for transmission.
The port side teak decking has been cleaned and re-oiled.
The in-line connectors used to feed the power lines on the water-maker were checked and replaced.
The accommodation area's below decks where stripped out and cleaned.
All in all, Pinta, like me is ready for sea, indeed we need to go to sea.
Fair winds, calm seas.
David.