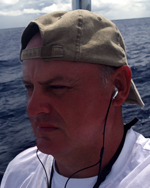 Position 34°15'970S 172°58'852E 9Nm
Off North Cape, North Island, New Zealand, Tasman Sea on-route to Australia.
Hi dear friends, thank you for following my journey. Here is this week's update.
It has been a very busy week here in Opua, firstly that I shall depart here on Saturday therefore Pinta is receiving her last make-over. Secondly I wanted to say goodbye to all my new friends I have made here during my stay have, to that end we have been having the odd drink or two.
Life Onboard:
As the early morning mist dissipates warmed by the New Zealand Autumn sun so the reality of me actually leaving here has started to sink in. Lizzi who crew onboard SV Heretic (Seth's boat) when they arrived in New Zealand will sail onboard Pinta, Lizzi came onboard on Tuesday evening during a torrential downpour. Later during the week Caitlin also joined the crew of Pinta.
A quick trip to the petrol station to refill one of my LPG bottles followed by a quick shopping trip to re provision, later we weighed anchor to refuel and take on water before once again returning to anchor.
Also during the week some good friends of mine returned to Opua in readiness for there departures, Beth & Bone onboard SV Splinters Apprentice, David. & Juliet onboard SV Reflections, Derek & Althea onboard SV Sukinuke and Dirki & Linda onboard SV Jade.
A quick visit to all, which also meant a few welcome and fair well drinks onboard the respective vessels.
The reminder of the week was spent repairing the last of the sailing community's laptops in readiness for there departures. I also fixed the laptops of Daryl & Kayla, friends I have mentioned before in my updates. After more than enough fair well drinks on Wednesday, Thursday and Friday night, Daryl kindly gave me some antenna wire and as a going away present an engraved Opua cruising club glass handle (pint beer jug) that he had previously won.
Saturday morning, bright and early, ashore to complete formalities then we were off, off sailing once more and although the forecast was not looking too brilliant it looked to me like we might have a bit of a lumpy start followed by a few nicer days. Only time will tell if I was right.
The Boat:
No work carried out this week other than a quick tidy around stowing equipment and Pinta, like me is ready once again to continue our voyages upon life's ocean, to chasing down the sun, frolic with the dolphins and sirens of the deep.
Fair winds, calm seas.
David.