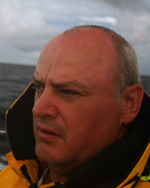 Position 31°32'564S 167°46'222E
Tasman Sea on-route to Australia.
800Nm to Brisbane
556Nm off New Caledonia
386Nm off New Zealand
Hi dear friends, thank you for following my journey. Here is this week's update.
A week of contrasts onboard!
Life Onboard:
A breeze in the, sails full and by as we gentle sailed from Opua outward bound passing Russell then into the 'Bay of Islands'
As predicted it would be a bumpy first few days out as we round the notorious North Cape, an area where many currents converge, some from shallow depths, others from far offshore from depths of 1,000's of metres where they suddenly come across 170, then 30 metres of depth. Pinta being tossed as in a salad bowl with wind from 25 – 46kn, for two days we battered these conditions, one day only making 30 nautical miles, in total 120Nm in the past 36hrs.
Water above decks, water below decks, water down your neck, water upon water, wind from know where as squall after squall came running across the sky towards us. Monday morning and the sight of the sun rising from the grey sea cheered all onboard, blue skies and gentle breezes pleased more.
With the return of fair weather the fishing line was out and hope returned to all onboard after being completely drained over the past few days, unable to get in to a working routine for Caitlin had become ill midday Sunday. In experienced and not accustom to life at sea, although a sail boat owner. Taking unknown medication and the effects of seasickness put great strain upon us all.
With thoughts of turning back in the forefront of my mind for know one needs a difficult / unwell crew member onboard for a potential nine-day passage, more so sailing across the Tasman sea. After taking them to one side and explaining to them how it was going to be the decided to listen, the following day rationed to only dry toast and sips of water they slowly responded, so much so by Tuesday morning they were fine. A mixture of medications, perhaps unknown stress they had placed upon themselves had affected them so, either way all is okay once again onboard.
The main problem was having someone onboard who has no concept of life at sea and the structure onboard one must operate on to, well for a ship / vessel to function. An example would be, the possibility was there that after clearing out on Saturday (as my visa would expire that day) we might, if bad weather prevailed have to spend a night or two on the quarantine berth, the reply was, well that's okay I can bring my dinghy so I can go ashore when I want too. Many friends tried to explain to them that this was not possible, still disbelieving everybody, they were going to speak to immigration as this was (to them) a breach of their rights!
I was lucky in that a friend of theirs came by, they asked them and said surly this could not be true, there friend told them that was correct.
One can only say, 'Bless them, yeah right!'
Thursday, the winds increased to 45kn, with the Tasman Sea showed its bad side. After the mainsail blow out, although doubled reefed I decided to deploy 'Duncan' the sea anchor. The following morning we fitted the spare mainsail and carried out running repairs to what ever we could. Some thirty hours later whilst still under the sea anchor Pinta was hit by a rather large breaking wave beam on. I was flown about receiving several cuts etc during this violent movement. This prompted me to 'just go for it'; the following is taken from page 922 from the book 'In My Wake'.
'Steering Pinta over the crest of a wave, slowly at first I can see the next wave, regaining my focus, wiping the sea from my eyes I can see the next two, three, four and fifth wave of this set. White bubbling foam bases from which rise a tower of blue, turquoise, through to white breaking, perfectly stacked up and ready roll through. One by one they get closer, putting my stern to them, easing out the Genoa, more Genoa out, a little more, I need enough speed to out run this cascading, foaming broth, relatively powerless until they collapse either over you or nearby, then its anyone's guess. Pinta surrounded, covered in a white foaming mass, so much power within one could not imagine!
For four hours, we battle set after set as they rolled in, steering my way around, through, the collapsing mass of foaming sea. Waves as high as Pinta is long, winds (30 – 45kn) that would make you really have a bad hair day, if I had any that was'. We carried on sailing that evening although a still little wary of the 'breakers' as they come rolling in during the night.
Sailing has been good this week with steady winds since.
The Boat:
The only adjustment / alteration was to erect an inverted home brew antenna for the weather / Amateur Radio system.
Damage onboard;
Blown out mainsail – bent on replacement sail
Dinghy securing points pulled out – Dinghy secured with a cradle of lines
Dinghy oar just deformed, almost beyond recognition
Dodger frame parted
Bimini frame parted – repaired
Bimini cover damaged – Rope securing cover at 4 points
Windvane steering feeding block anchorage pulled out – relocated
Fair winds, calm seas.
David.