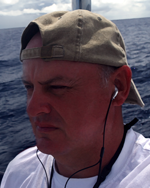 Position 28°20'166S 157°31'842E
Coral Sea on-route to Australia.
234Nm from Brisbane, Australia.
Content:
Hi dear friends, thank you for following my journey. Here is this week's update.
On day eighteen of a planned nine day passage across the Tasman and Coral sea's to Australia. I write this in heavy sea's and strong winds, having covered 1Nm during the past 12 hours!
Life Onboard:
After the drama of last week, a more subdued weather system influenced by a static high over Australia starts to affect us here, however on Wednesday it started to weaken and move over the Coral Sea towards New Zealand. The downside for us is that this movement will be low pressure influencing our weather now that the high is no longer blocking them.
Pinta continues with 2.1 crew, in reality we are carrying a passenger which, to be honest with you is making life very hard onboard. Sailing boats and their crews need to operate as a team otherwise it fails to function; an example would be the night just passed. My watch ended at 00:01hrs (GMT), Lizzi's watch then begun however before the handover was complete a frontal system came through unpredictably, Pinta was now sailing on a canvas where the painted sky met the sea without any visible join. Wave tops cut off, carried away within the wind, winds full of water, howling, driven by 52.2kn of wind, spray, water everywhere. All in all a very wet cold picture, forever painted within it will always stay with me!.
Fighting with the sea's that developed and battling the winds, you could feel a sudden drop of several degrees as the highs influence dissipated and the low took over. With little sleep, Lizzi and myself carried on until dawn while the 0.1 passenger lay on their bunk. A cup of hot tea, a slice of bread and jam would take a lot of effort for them. All in all during the past 18 days, and always under protest they have taken 3.5 watches!
Oh, how I wish I had read Patrick O'Brien's 'Post Captain' before this passage, where the following line is taken from;
"Well', said Jack, 'there were women in the Ark, so I suppose there must be some good in 'em; but generally speaking I have never known anything but trouble come of shipping them on a voyage – quarrels, discussions, not enough to go around, jealousies.!
Thank god for 'Twiggy' the windvane steering gear, why 'Twiggy' well for those far too young (like me) who are not a where off 'Twiggy', she was a model back in the 60's. 'Twiggy' like my windvane was / is, all arm's and legs with no body ha ha ha. 'Twiggy' has earned her place onboard.
The Boat:
Pinta has developed a little leak from around the bow area, water runs down under the 'V' berth, then becomes trapped by the compartment under deck boards (a design fault for they do not drain into the bilge). I have always had a pocket of water in that area and presumed it was condensation or the like however whilst deploying 'Duncan' (The name 'Duncan' comes from the fact he is always being 'dunked' in the sea) the sea anchor, its rode became caught under the bow's stainless protection strip removing some of the sealant. My thinking is that water is passing through a fitting or a miss-drilled hole.
A job for in port, I am however bailing out five buckets of water a day.
Fair winds, calm seas.
David.