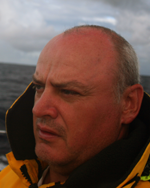 Position 27°27'214S 153°11'470E
Manly Harbour, Australia, Coral Sea.
Hi dear friends, thank you for following my journey. Here is this week's update.
Land at last and boy, was it never sought so much.
Life Onboard:
In all my years at sea / being near the sea I have never been so glad to reach land, for one moment I put aside my unbelievably mentally disturbed crew / passenger, I just stood there, amazed by what I could see, mount Beerwah, mount Coochin and mount Mellum rising out of from the 'horizon mist' like pyramid's rising for the sands of Egypt.
The town of Caloundra to there right, from a distant looking very Middle Eastern.
An unbelievable sight, the sun setting behind them, a true wonder where the sea and sky met as one, one colour, deep red with the mountains rising through. A painted scene if ever there was one. .
This is a busy waterway, ships of thousands of tonne passing by within 40m of us as we motored the 5hrs along the channel to our designated anchorage, 'Mud Island' for customs had decided that we draw too much water for 'Manly harbour'. The following morning we continued our passage along the Brisbane river to 'Rivergate' marina. A plastic place where mega motor yachts stay, sterile and detached from the town only a few miles away.
After clearing in, which I must say the customs and quarantine teams were so friendly, tea, coffee and biscuits, a brief chat about rugby then we were legally in Australia. We stayed here for a few hours as the washing machines and showers were free, taking advantage as one does. After wards, with our water tanks filled we departed back down the river to anchor off 'Green Island' for the night.
I have been here in 'Manly' now for a few days, a clean and friendly place. A good run ashore on Friday and invitations of 'sundown' drinks onboard other vessels, offer of loans of cars to do our business around town. Very similar to our welcome we received in New Zealand.
Today there is a jazz festival only as few metres away, such music and characters. For those who know Lizzi, she has purchased a dress for the occasion!
The Boat:
The dinghy seems to be letting in water, as we are so tired I have not attended to this yet, an ongoing project as it still floats and gets me ashore and back, with some bailing in between.
Fair winds, calm seas.
David.