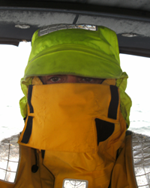 Position 27°27'214S 153°11'470E
Manly Harbour, Australia, Coral Sea.
Hi dear friends, thank you for following my journey. Here is this week's update.
What a difference a week makes!
Life Onboard:
I decided to take the week off; that is after arranging for the mainsail, Bimini to be collected for repair. I also delivered the dodger frame for repair.
I have been so lucky to once again meet the most amazing and friendliest people, invitations of assistance, visits to there homes and even given the odd book or two to read. After a very hectic weekend of socialising we took the day off on Monday to visit the city, the city of Brisbane. The local train service runs a very good service there and for only $5 return.
To be honest, like most cities these days, one is much the same as another with the same brand of shops although I must say it was a very clean and again friendly place.
Thursday, Lizzi departed for Sydney.
The weeks socialising continues although I have decided to take the weekend off and work onboard editing some of the fifty plus DVD's of film I have taken so far during my voyages. The wind is blowing around 30kn so it makes an ideal time to use the computer for the wind generator can keep up with my power demands.
The Boat:
The fridge thermostat started playing up after we were hit by the rather unfriendly breaking wave a few weeks ago, I am trying to source a replacement.
The heads seating hinge has finally decided to give up on me, luckily enough the local chandlery stocks replacements.
'Wilson' the dinghy is leaking like a colander, he looked ok when we first launched him, I am waiting for some good weather, forecast for mid week to lift, inspect and carryout any repairs.
Fair winds, calm seas.
David.