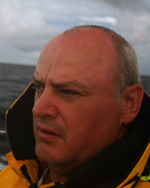 Position 14°37'578N 053°28'578E
Arabian Sea, Indian Ocean.
28.1Nn east from the 'corridor' set up by the CJTF – Horn of Africa.
Hi dear friends, thank you for following my journey. Here is this week's update.
Sixty two days at sea, I hope within the next week I should arrive at my destination.
Life Onboard:
A quiet start to the week being becalmed. Monday brought a sign of hope in something that actually as sailors we normally do not like to have around. A low pressure system should be with me the next few days.
As the barometer dropped, the wind returned as did the sun. 18kn from the NNE. Pinta did what any respectable sailing boat should do; she healed over, showed her bottom and went for it. Good girl!
Pinta sailed parallel to the Somalia coast still under the influence of the low pressure system indeed it stayed with us all week with winds between 18 – 25kts. Good sailing conditions although I had to pull Pinta back sometimes for I did not want to put too much stress on the steering or what's left of the steering.
On Friday afternoon some 200Nm from my first waypoint and the Gulf of Aden I emailed LCDR Brett Morash USN, CJTF-Horn of Africa for an update on the not only the situation but to check if the 'preferred' corridor coordinates where still valid. The were, he also updated me on a piracy attack around the position of 14-15N and 49-30E that had just happened. He also said he would keep me abreast emailing a sit-rep as and when.
On Saturday I turned west into the Arabian Sea, I will shortly start running the gauntlet that is the 'Gulf of Aden'. As I did so a barrage of vessel speeding west surrounded me from the east. Normally such ships whilst on passage run there engine at reduced revolutions to reduce fuel consumptions, not here. Here one wants to get the hell out of here as quick as possible!
This means you have to be on the ball with inter-ship communication regarding what action's vessels should take to avoid collisions.
And to think after all this I will be sailing in to a port with no BEER, sometimes life is just not fair.
The Boat:
Nothing new to report this week.
Fair winds, calm seas.
David.