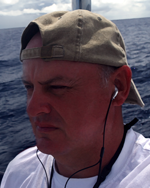 Position 35°54'173N 014°29'871E
Manoel Island Marina, Malta. Mediterranean Sea.
Hi dear friends, thank you for following my journey. Here is this week's update.
The weather continuing to be nice, with lifted spirits I try to get Pinta ready for sea.
Life Onboard:
Although in myself my spirits were high, indeed higher than they had been for sometime. In reality it has been hard going this week, spending more time resting than one would like.
The day that I wish was not, came! The six Nations final games were played on Saturday, what a final game. Ireland Grand Slam winners, the first time since 1948, 61 years ago. Although I enjoyed the games I was not very well, my local bar let me stay behind, a type of lock'in if you. They would not let me buy a drink all night, oh so much rum :-(
I spent the day drinking lemonade!
The Boat:
A 'halyard swivel' and 'top cap' for the Genoa furler has been ordered from the local Jeanneau agent. The above replacements and the fitting of the new backstay and bridal are the last, major planned work to be carried out before Pinta departed's Malta.
Fair winds, calm seas.
David.