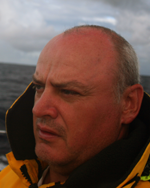 Position 35°54'173N 014°29'871E
Manoel Island Marina, Malta. Mediterranean Sea.
Hi dear friends, thank you for following my journey. Here is this week's update.
A mixed bag onboard Pinta this week
Life Onboard:
I have tried to get some work done onboard with little success although below decks she resembles a yacht now rather than a workshop come living area as the weather has warmed up enough for me to stow my clothes away. Previously the cabins had been too damp, my clothes ended up damp and smelling mouldy.
The majority of my time has been spent writing for I have been a good boy and not going out too much, okay, well if you forget Wednesday afternoon / evening when Sean and John came around. We went out for a few drinks, purely to socialise you understand.
As the weekend came around I spent most of Saturday correcting an error within the website, the rest as they say was be history!
The Boat:
No chance.
Fair winds, calm seas.
David.