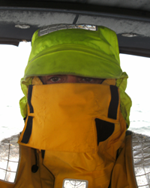 Position 35°54'173N 014°29'871E
Manoel Island Marina, Malta. Mediterranean Sea.
Hi dear friends, thank you for following my journey. Here is this week's update.
Time I knuckled down and did some work.
Life Onboard:
Compared to past weeks it has been busy one, I installed a new marine computer onboard the MV Silver King, afterwards Pierre took us for a drive down to Blue Grotto or locally known as Il-Hnejja (meaning 'The Arch') in Maltese. It was given its English name by a British soldier who thought it similar enough to Grotta Azzuzza (The Blue grotto) in Capri to deserve the same name. Located near Zurrieq in southwest Malta, an area famous for its rocky coastline, the natural sea caves are very appealing.
Boats leave from the tiny harbour of Weid iz-Zurrieq and cruise for about 30 minutes before reaching the caves. All the boats travelling to The Blue Grotto enter under an immense arch into a 140ft high cave cut into the rock face. The system consists of six caves carved by years of relentless pounding by the sea, of which the Blue Grotto is the largest and most impressive. The water seems an impossible cobalt colour as the sky reflects off the white sand bottom. The caves sparkle both with blue reflections of the sea and orange, purple and green of the various minerals present in the rocks.
Tuesday was a national holiday here in Malta, 'Freedom day'. A commemorative ceremony is held at the War Memorial in Floriana. On this day, traditional regatta boat races are held in the Grand Harbour.  Later, and by now being semi local we did the same as everybody else, very little. A few drinks with friends followed by a quiet night onboard.
Midweek I installed two more computers, this time onboard the MV Berendina Hermina.
The week ended meeting up with a local journalist / writer, we had a nice chat about writing etc. Friday was 'Lady of sorrow' day; a day of precessions throughout Malta and abstaining from eating meat, fish is the order of the day.
This week also marks the beginning of the long Maltese summer and therefore festa (festival) time. It's a chance to catch a slice of Island life close up and be part of a tradition that stretches back to the 16th century. Two words define a Maltese village festa: saints and fireworks. The week long festivities celebrate the parish patron saint. The celebrations themselves end in the grand finale of a firework display. Along the way, there is plenty of brass band music, peeling of bells and street life. The main event is held on Saturday's and Sunday's.
Villages employ many people full time planning these events, officially it is a time where the local firework factories show off their work, unofficially many fireworks are made in the villages. Obtaining explosives for these has in itself become an art so too speak. Off 'Blue Grotto' there is a small uninhabited an island (rock) called Filfa Island which used to be used for targeting practice during the second world war but now is a nature reserve and permission is need to visit there. There are many, many unexploded bombs around there. When need the local fishermen sneak over during the hours of darkness and acquire certain items, returning later to a pre-arranged location they are unloaded, taken to the village and buried under the sand until required. The explosive content is then used within the fireworks!
The Boat:
I attempted to fix the Harken winch, which 'exploded' (internally) back in the Red Sea however there now appears to be damage to other parts, not noticed until a new part was fitted. This has been ordered.
At long last the most important repair work was carried out onboard, the repaired radar support bar was refitted. Now I can bend-on my hammock and enjoy these lazy Maltese days / evenings as one is accustom too!
You may recall, the hammock is ideally located, to my left a beer holder where on can place one's cold beer. To my right (if needed), a small fishing rod. Above hanging within arms reach my ipod, chill out music playing. Indeed the good old days have defiantly returned onboard, Pint once more in the sunshine!
Fair winds, calm seas.
David.