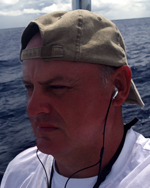 Position 27°27'214S 153°11470E
Manly Harbour, Australia, Coral Sea.
Hi dear friends, thank you for following my journey. Here is this week's update.
A tranquil and enjoyable week here in Manly.
Life Onboard:
I have greatly enjoyed this past week with my son, Adam and his girlfriend, Claire visiting from the UK. Although I feel it is a little too quiet for them here they, I hope are having, likewise a nice time. They have been in to Brisbane shopping a few times, also visiting Steve Irwin's, Australian Zoo. The zoo is rather special for there are so many animals you can get close too / learn about.
They have a great photograph of them holding a koala, they also met Dingo's, Foxes, Camels , Wombats, Snakes, Alligators, Tigers and much more.
Friday evening whist returning back onboard port security stopped me, asking boat details and had I permission to stay on the berth! I had done neither for I had to come in and fix the leak on the bow, it proved impossible to do so outside at anchor. So, I sneaked in and occupied a berth. He contacted the Brisbane port authority who in turn contacted the Harbour master, a meeting has been arranged for Monday morning.
The Boat:
The Bimini has been repaired and refitted, repaired locally by a chap who has set himself up in business on his own. Cost $150 (AUST $).
The mainsail has also been repaired, Hood sails. Cost $225 (AUST $).
A replacement thermostat for the fridge was sourced and fitted. Cost $28 (AUST $).
Fair winds, calm seas.
David.