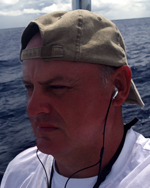 Position 35°18'746S 174°06'946E
At anchor off Russell, Bay of Islands, North Island, New Zealand, South Pacific Ocean.
Hi dear friends, thank you for following my journey. Here is this week's update.
A warm climate, abundant seafood and deep, sheltered harbours all contributed to dense pre-European Moari settlements in the 'Bay of Islands' with many a headland supporting a 'pa' or a fortified village of yore. The sheltered bay also appealed to Captain Cook, who anchored here in 1769. He prosaically noted in his journal, "I have named it the 'Bay of Islands' on ac- count of the great number which line its shores, and these help to form several safe and commodious harbours". Cook landed on 'Moturohia Island' at what became known as 'Cooks Cove', where he forged generally good relations with the in- habitants.
Life Onboard:
I mentioned the above for it seem apt as I sit here at anchor off Russell, the first capital of New Zealand. The signing of the 'Treaty of Waitangi' in 1840 brought effective policing yet heralded a decline in the importance of the 'Bay of Is- lands', as the capital moved from its original site of 'Koro- rareka (now Russell), first to Auckland then to Wellington.
A damp and overcast morning covers the bays as I look out from the port beam, shoreward to Russell which itself is cloaked in mist, mist, which caresses the hills before rolling down to the shoreline. We wait patiently for it to disperse, the sunslowly warming the air, then peace by peace, first tress then buildings from the town started to appear. A quaint town where colonial style buildings painted in colours careful on the eyes, white, pale blue with trees of green meet turquoise seas.
Although these days Russell is a pure tourist trap you can- not get away from having goose bumps all over as you sit on the beach and recall the history surrounding you. After lunch we motored the 5 miles or so back to Opua.
Monday, after a lay in we popped by SV Heretic to see how the work is progressing for they are on the hard. A replacement engine and anti fouling are all at different stages.
Wednesday was bath night onboard, well for my visitor, Mr 'B' or Dave for after a good run ashore we returned back to Pinta. As usual I always get onboard, I removed the hatch, turned on the lighting, after a while and still no sign of Dave I called out 'are you okay', to which the replay came, 'I'm a little wet'. This proved to be an understatement for once topside I could see Dave floating on his back, knees bent over the back of Wilson (the dinghy).. All I could do was laugh, I laughed so much my throat was sore for days after- wards. Needless to say I assisted in his recovery.
Friday, we filled Pinta up with diesel and water in readiness for our sail to Auckland tomorrow via a few stops on the way down.
Saturday, an early start loading up Pinta with props for the BBC for which we would transport to Tutukaka as we would pass there on our way along the coast. Caitlin would also be joining us for this adventure. Departing Opua with gentle breezes caressing Pinta's sails, slowly drifting then as the wind came up so did Pinta. We made excellent progress, anchoring for the night in Maunkani Bay. Caitlin, in her own words 'was happy doing a 'girlie thing', i.e. Cooking in the galley for as us single handed sailors can testify, it is not worth cooking often for one. Caitlin like most of us enjoys cooking but rarely gets the opportunity.
The Boat:
The GPS link to the computer failed, a quick ten minute rewiring and all was working okay. The engine has received a little attention with the fitting of a replacement blower for the engine air system (a blower basically does what it says, on Pinta it sucks the hot air around the engine out via a 100mm hose, this causes colder air to be sucked in via another 100mm hose. This keeps the engine running within the manufactures operational temperature). A replacement air filter was also fitted.
Fair winds, calm seas.
David.