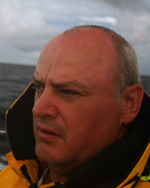 Position 35°18'746S 174°07'431E
At anchor off Opua, North Island, New Zealand, South Pacific Ocean.
Hi dear friends, thank you for following my journey. Here is this week's update.
With visitors onboard and therefore extra hands available, work onboard be busy.
Life Onboard:
The week started very much as another, some friends drove up from Whangarei on Sunday, this was followed by a very nice evening in the Cruising club. On Monday I towed SV Heretic in my dinghy to the lift out area, he was hauled and set-up on the hard.
Tuesday Seth (Heretic) and myself drove to KeriKeri airport where a friend would be flying in to New Zealand for a six week stay onboard Pinta, a quiet night onboard followed.
Wednesday sore the conversion of my Dave (Mr B) over to the worlds famous Mr's Mac pies, for it is our painful duty to have to go a shore early every morning for a steak pie, which we have to pass as we enter the chandlery. Once there we get just enough supplies / spares to complete the job for that day.
As have extra hands onboard I decided to get 'them' working. Although I did mention the word 'work' I have to quantify that, this means one job per day, well in my books it does for it is far too hot to work after 11:00am. The new battery retaining straps were fitted, replacement waterproof cover on the shower pump fitted, measured the fitting on the top of the backstay, two big rubbish runs including the removal of the old batteries.
This morning we took a lovely walk to the flagstaff on Rus- sell, New Zealand's first capital (http://www.russell.gen.nz/scenic.htm) this was followed by some fish and chips which we ate while sitting by the beach watching the moving scenery go by, shortly followed by some home made ice cream then a leisurely cruise back to Opua.
The Boat:
Only the above work completed this week.
Fair winds, calm seas.
David.