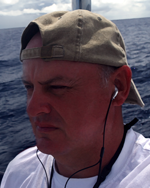 Position 35°18'746S 174°07'431E
At anchor off Opua, North Island, New Zealand, South Pacific Ocean.
Hi dear friends, thank you for following my journey. Here is this week's update.
A week after the week that was!
Life Onboard:
It has been a quiet week compared to last week although we still had over 31hrs of constant rain!
On Tuesday I towed Seth's yacht Heretic' using 'Wilson', Pinta's dinghy up to the quay where the old engine was lifted out and a second hand unit lowered in.
Wednesday Seth's friend arrived, an English girl he had met whilst sailing through the cook islands, her partner was on a course down south, she was visiting friends along with her sister, unfortunately as his boat was a bit of a mess to say the least and I had spare cabins they stayed onboard Pinta. The following day we went for a four hour sail along the bay however on trying to engage the gearbox the morse control would not move. It was fine whitest in neutral so we had little choice but to sail off anchor and return the same way.
The rest of the week follows the same pattern as most weeks now, the venue, the Opua Cursing Club, the reason.. good relatively cheap beer. Saturday was a bit of a right off, what a Friday night.
The Boat:
Pinta suffered a little damage during last weeks strong winds, the toe rail was pushed in about 1cmon her port quarter as boats all moved around the anchorage. Surges in winds and currents fighting with the wind caused anchors to lift, drop and reset, Pinta was no different and although I was up all night, nothing happened until I went asleep she lifted and reset about 10m to port from where she originally was, this caused Pinta to drift back onto another vessel, no damage to the other vessel.
I have removed the old domestic battery bank and replaced them with one large 8D battery with a CC (cold cranking – used to measure the amps it can supply in short bursts to start engines) of 1,000amps and a RC (reserve capacity of 440amp – used as a measurement of its general capacity over longer periods) of 440amps.
The Morse control was stripped down, the reason for the failure soon became apparent. The 61hrs of rain we had last week had worked its way past the top seal and caused two plates to start sticking together, an application of lithium grease resolved the problem.
Fair winds, calm seas.
David.