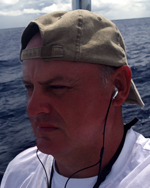 Position 13°30'770N 066°01'271W
Venezuelan Basin, Caribbean.
Hi dear friends, thank you for following my journey. Here is this week's update.
A week to make a move, we departed St Maartin at 18:00hrs (GMT), that's 14:00hrs on-route for Panama. Since our departure we have covered 331Nm in 60 hours, that's an average speed of 5.5kn and in light winds (10-12kn). The light winds have been caused by a high pressure system over Ecuador, this is expected to move 1800 miles Easterly by Tuesday so to be off the French Guiana coast. This has given me a Southerly (SSW) course rather than a Westerly (WSW) which is less than ideal but we are using the new self steering gear. With down wind speeds of only 9kts it is difficult to set-up the new system, if we were hand steering it would be ok however I need to get use to the steering gear. There is know time like the present to do so, after all I am on sailing boat and therefore I sail wherever the winds will take me.
I am hoping that when I reach 100Nm off the Netherlands Antilles or better known as the ABC islands (Aruba, Bonaire and Curacao) the winds will be more from the SSE rather than from ESE. If so I should just make it around the Paninsula De La Guajira (Venezuela) and into the Colombian Basin and on to Panama without too many course changes.
Life Onboard:
I always, I tend to meet the most amazing people and so it was to be once again although this time in St Maartin. Friends new and old, the crew of SV Dude arrived to be hauled out. I first met them in Trinidad some 8 months ago. We had a very good happy hour (or so) at the St Maartin yacht club.
It was also time to say goodbye to Bob and Leia off SV Boyo, friends I had first met in Grenada but have since met many times during my travels around the Caribbean.
The following night I met Kerrie who is the office manager for the Newport yachting centre (Newport Rhode Island USA) after a few drinks and a tour of the bars where the crews from the mega yachts hang out it was time to call it a night. I did however take her details as one never knows where one will sail too, I have the option to take up free mooring their should I decided to visit.
I think in reality it was good timing to leave St Maartin now for I am not sure how many more 'happy hours (more like 3 hours) I could take without a rest (laugh) and at only 60 pence for 3/4 pint of larger.
The Boat:
The last of the fabrication was completed on Wednesday as promised and so I was able to fit the wind vane to the swimming platform, reinforced within the stern locker with marine ply glued into position so to spread the load of the mounting above. The blocks which lead the lines to the wheel where secured. Once fitted all we had to do was test it. As I wanted to make a move straight to Panama this would have to be done underway.
Once clear of all shipping I started playing with the wind vane, it did not seem to work as I had thought it should so it was removed, stripped down and rebuilt. After playing with it for an hour or so it worked fine. It had been assembled incorrectly at the factory, the bottom fin was turning at an incorrect angle so causing it to override the gearing.
It took the better part of the day to understand the relationship between the wind vane and Pinta. Every vessel has different handling characteristics. Pinta is very sensitive, once this was understood she handled very well.
Known onboard as 'Twiggy' for it's resemblance to the famous model of the sixties, all arms and legs with no body shape especially when in action. Very much what I feel 'Twiggy' would look like while attempting to dance. The self steering gear was duly entered into the ships log as crew.
It was also great to have 'Casper' (the wind generator, so called for not only its ghost shape but more so when in North Africa during 2005. The early morning and evening winds would start it spinning, the noise, a whisper type of sound frightened the local children who thought it was a ghost) signed back onboard and working hard. I have fully charged batteries, the first whist sailing since early December.
Just before I finish a brief weather update for you, It's a little cooler tonight (06:00hrs (GMT)) with an air temperature of only 25°C while the sea temperature only at 26.2°C. There is a brisk Easterly wind of around 25kts and a 2-metre swell running up the port quarter. For the first time since late November 2005 I am feeling a slight (ever so) chill, I am contemplating about wearing some long trousers tonight, that's if I can find any (laugh).
Fair winds and calm seas.
David.