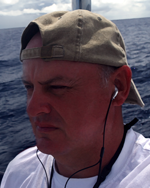 Position 14°00'946N 060°59'923W
At anchor, Castries, St Lucia.
Hi dear friends, thank you for following my journey. Here is this week's update.
I was sorry to leave Bequia, a small and quite Island that has not been developed too much. So it was that the 'Big man' leaves Bequia, it's a long story but that was the nickname given to me by some locals. I am now in St Lucia and today (Sunday) it is Creole day here with partying, Creole food and music playing all around the streets as Pinta prepares to sail to her last destinations within the Windward Islands, a quick stop over in Martinique, Dominica then arrive in Guadeloupe on Friday of next week.
Life onboard:
Before departing Bequia the SV Liberty arrived, as you may recall this was the yacht who was hit by the cat mentioned last week. I always seem to meet John and Carter (the crew of Liberty) either as we / they arrive or depart so I made an effort to visit them before leaving. We had a nice late afternoon / evening drink onboard SV Liberty, I also just confirmed the events of the previous week while the cat tried to mate with Liberty.
There has been a crew change this week as Jennifer fly's home, Sylvia joins for a two week sail to Guadeloupe. An interesting start as the new crew already feels the effects of sea sickness as we weigh anchor, although surviving the 18 hour sail to St Lucia sleeping she felt a little better as we arrived at 06:00hrs.
An interesting walk around the town of Castries to find the Customs and Immigration offices lead us through some strange yet beautiful areas of the town. On Friday we took a mini bus, to which you have to claim your seat then sit in the very hot bus until full before departing for the one hour drive or perhaps that should be a rally cross trip to Soufriere some 25km south.
We visited the Diamond waterfalls then walked around the botanical gardens before looking around the town. How strange it was to walk into a souvenir shop only to hear a very strong northern English voice of the owner. We British seem get everywhere.
The town of Castries has some very interesting markets where you can haggle over the price and get some very good deals, that and the local strong white Rum at 140% proof can make for an interesting stay.
We are anchored just outside the tuning circle used by cruise ships etc. There is a three mast schooner moored to my port, a four mast schooner moored to my Starboard while a massive cruise ship, the MV Silver Shadow is moored (for the day) ahead. This is a friendly place, even the local charter company very kindly offered me free water (a first for the Caribbean) and use of their washing facilitates.
All in all our stay here has been very interesting; I hope to depart for Martinique on Monday morning.
The Boat:
As for Pinta, the computer charging system used to maintain the batteries lost its program settings, a quick resetting and all was fine.
She continues to behave herself considering she has been at sea for 15 months.
Although not technically in the 'boat' section I have been studying most things onboard to see how they can be improved or indeed for anything new that could be used onboard a sailing vessel. One of these thoughts are to do with the winches onboard and how they handle the rope. I have been using them or indeed staring at them for well over 460 days. I am totally fed up of coils of rope at my feet with kinks etc. Now life out here can get a little sad and indeed when you hear that I actually took slow motion video of a winch in action you will indeed say that but after studying the video I came up with a solution, so after having a good look around the chandler's around the Islands to confirm the basic design had not changed (my winches are now six years old) this confirmed the design would work.
However a few nights ago in my sleep I came up with a radical new design for a winch and since then my sleep has not been the same. This design in theory would totally change the winch as we know it.
Only time will tell whether this is a fairy tail or indeed something else, we shall see but I am so confident I am seriously thinking about delaying the rest of my trip (around the Caribbean) while I pursue this. A delay of a few months would not be too much compared to the opportunity missed.
Mr 'B' get ready lol.
Fair winds and calm seas.
David.