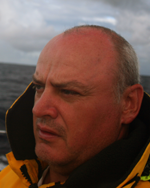 Position 15°17'587N 061°23'195W
At anchor off Roseau, Dominica.
Hi dear friends, thank you for following my journey. Here is this week's update.
Becalmed in paradise, well not quite paradise but better than being becalmed off Brighton.
Life onboard:
Fishing has not been so good the past few weeks, although I have been catching them, the 'Wahoo' have razor sharp teeth and therefore bight their way through the line. With this in mind I purchased some 150lb breaking strength wire to use on the last 10cm or so. Well, I caught a lovely fish but unfortunately it was too big for my 50lb line, ping, it was gone.
I have been trying to purchase the reel I want (which can take 300m of 100lb line, has two gears and leaver drag), one that was recommended to me by specialist fisherman I met during my stay in Ascension Island but I have been unable to locate one here. Apparently Antigua has a good stock of reels so I will try there.
It was time to kick off 'two showers' (Sylvia) the passenger, whoops sorry, the crew, but before I go on I had better explain 'two showers', or do I have too?, no I think you will get that ok. Anyway after the first time she was sea sick, just after weighing anchor, I explained the reason why she was sick (bowl of corn flakes and milk) and said tomorrow just have a bit of toast and sip some water. So what does she do, she has a bottle of coke, result sea sick. Em, some people just do not listen. On the last trip from Martinique to Dominica (pronounced Dominica, know locally as 'Natures Island') she started eating corn flakes and milk, so I stopped her there and said if you eat that and your sick, your off. To be honest she was absolutely useless, there are reasons why things onboard are done a certain way. After years of sailing you know which are the safe ways to do a job and which are not. She constantly would do things her way so I had to say, look I can not be responsible for your safety if you will not follow the advise I give. I signed her off as I cleared in here on Dominica.
Dominica is a wonderful place, a place where the only surviving 'Caribs' (the original settlers of the Caribbean) still survive. They still retain their traditions; often they can be found canoe carving along the beach. I like it hear because it has not been commercialised too much, mainly due to the lack of beaches.
Here last Friday and Saturday were national holidays with Saturday being independence day. Street music all around and partying until the early (05:00) hours of the morning.
The wind as also decided to go on holiday, for the first time sine the doldrums last year I am becalmed. My original plan was to sail for Guadeloupe this week but I thing I shall be here for at least the next five days. I will try to move along the coast if the wind picks up for a few hours so to make the trip across to Guadeloupe a little shorter (26Nm closest points).
Depending on what happens in the near future with the winch design (I am still designing in my sleep which means I get up to draw it every few hours, once I have solved a problem in my sleep) I might make my way over to St Kitts & Nevis (Once I have been around the BVI (British Virgin Islands)) for Christmas and the New year. It is carnival time there during that period so that should be fun.
The Boat:
As usual, when having female guest onboard Pinta likes a bit of attention, the charging system kept loosing its settings and the water cooling system needed to be primed every time I wanted to start the engine.
Time will tell later this week whether they are ongoing or not.
The diesel is a little low due to lack of facilities ashore although I have enough for 5 hours steaming, so around 20 – 25 miles.
The increase in diesel consumption since arriving in the Caribbean is amazing, last year I used 480 litres in total. That was mainly due to recharging the batteries on the first leg where I need to use the radar a lot. This was due to the torrential rain (8 days none stop) followed by 5 days of fog.
So far this year (since July) I have used 360 litres. This can largely be put down to two things, the unsteady tread winds at this time of year and the need to motor up the Lee of the Islands so to move onto the next Island. The trade winds will become steady during the next few weeks, once I move on from the Windward Islands the trades will be more favourable to move around the Leeward Islands.
Fair winds and calm seas.
David.