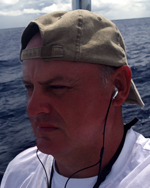 Position 17°08'94N 062°37'92W
At anchor off Charlestown,  Nevis (St Kitts & Nevis).
Hi dear friends, thank you for following my journey. Here is this week's update.
It has been an interesting week with the departure of my crew in Antigua.
Life onboard:
After a nice sail in 20kn of wind coming over the stern, so a nice run up to Nevis I settled down my writings. I thought you might like to read an abstract regarding items used during the first year of the voyage (up to end July 2006).
Equipment and food loses / used.
The amount of food consumed varied depending on our location, for example while on Ascension Island there was no gas for cooking so we saved what we had thereby the tinned food usage doubled. The figures below are for year one where we had 2 persons onboard and spent the first few weeks in colder climates.
In year one we did not eat too much fresh food apart from the when leaving Ascension Island with 30kg of fresh fish and when leaving Brazil, the food was so cheap it would have been silly not to do so.
Sorry about the formatting there is nothing I can do within this email program.
Year one by Item / Quantity
Tinned food
Beans 30
Beef stew 4
Carrots 30
Chicken roll 6
Corned beef 30
Fruit cocktail 15
Ham 25
Hot dogs 9
Hot dogs (cocktail) 2
Luncheon meat 50
Oil – cooking 4ltrs
Oxtail soup 3
Peaches 20
Pears 9
Peas 30
Salmon – pink 1
Salmon – red 4
Scotch broth soup 2
Spaghetti Bolognese 3
Stewing steak 15
Tuna 24
Vegetable soup 6
Various packed mixes 10
Fresh food
Apples 8kg
Bananas 10kg
Biscuits 2kg
Beef – stake 4kg
Bread 15 loafs
Butter 3kg
Chocolate 1.5kg
Crisp / Pringle's 20 large tubes
Fish – Grouper / Tuna / Wahoo 30kg
Flour 35kg
Pineapple 4
Salt 1kg
Soft drinks 20ltrs
Sugar 2kg
Sweets 1.5kg
Water 2,000ltrs
Yeast 1.5kg
Chandelier items
Diesel 480ltrs
Forestay 1
Fishing line 800m
Fishing lures 8
Furling spare parts 3
Gas – cooking 55kg
Impeller 1
Impeller casket 2
MOB light – Stolen Abidjan 1
Oil – engine 3ltrs
Rope – Furling Genoa line 30m
Shackle 1
Split pins 5
Steering cables 2 (1 for spare)
Well, I hope that was interesting, it certainly opened my eyes as to what was used then compared to what is used now.
Here on Nevis, the town, Charlestown is rather like an English country village with its winding streets, village centre and greens. The people are very friendly.
As mentioned earlier I have been spending a lot of time updating the book but also backing up to DVD the video taken so far, some 38 DVD's with an estimated 6 more to 'burn' this coming week.
The Boat:
Pinta behaved herself on the trip to Nevis and since we arrived. The only minor problem is the batter levels, they are a little low but slowly charging now the grey skies have cleared away.
Fair winds and calm seas.
David.