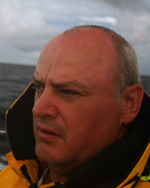 Position 17°21'74N 062°51'50W
At anchor, Sandy Point Town, St Christopher (St Kitts & Nevis).
Hi dear friends, thank you for following my journey. Here is this week's update.
As sit here starting to write this weeks update, Christmas music is playing on the 'WINN' radio station. Where does the time go to.
A relaxing week spent off Nevis which was preceded by a sail in a good force 6, gusting force 7 and despite Pinta being very un-streamlined with all the barnacles growing on her. She has been sailing now for 19 months now and is due to come out soon before leaving the Caribbean. We did maintain a good 5 knots for most of the trip. Not bad just under the Genoa. The reason which I have explained later on.
Life onboard:
There is not a lot to report this week, It has been a little wet so I have spent most of the time, around 5 – 6 hours a day working either on backing up the video taken onto DVD OR spent working on the book.
I am a realist and do not expect either to ever see the light of day, I will use them in years to come looking back on the voyage.
I departed Nevis on Thursday with the intention so do an afternoon (16:00hrs (GMT)) and night sail over to St Maartin, yes that is spelt correctly. Sint Maartin is the Dutch half of the Island, the French half is called St Martin.
However a nice force 6, gusting force 8 blow up. I decided to sail the 19 miles to the Northern tip of St Christopher, if it was looking favourable then I would carry on however with the wind coming over Pinta's quarter. That's around 40 degrees from directly behind and in that situation Pinta does not like both the Mainsail and the Genoa out at the same time, the reason is simple, the Mainsail prevents the wind from filling the Genoa fully. The Genoa is the 'power' sail so I always sail just with the Genoa only, I only loose around half a knot is speed but you don't get the boom banging all the time then. The next consideration was the sea, a rather nice 2 – 3 metre swell had developed and once again coming on the Starboard quarter. This causes a 'corkscrew' effect, i.e. being lifted, turned then dropped. Not very comfortable, if I was out in mid Ocean then fine you have to put up with it, as I was not I decided to anchor in the Lee of a mountain.
At 20:30hrs (GMT) or 16:30hrs local I dropped anchor for looking at the clouds and the way they were travelling I got the feeling it was in for the night. As you may recall I normally have around four times the depth out of chain but on this occasion I put out six times, the reasons was simple. When this wind gusts the a boat will surge one way, then as the wind settles, come back, then once again surging to the side. This can often be violent is very gusty conditions, now if you recall it is the chain which holds the anchor at the angle it needs to work. These violent swings often cause the anchor to lift out, thus you drag your anchor, or drift. The idea is that the extra 20 metre of chain will not only keep the angle needed for the anchor to work but also to act like a buffer, so to dampen any effects on the anchor the surging may have. It is still very difficult, if not impossible to get any sleep as the wind reaches guest of 35kn and Pinta surges off to one side then back to the other.
The only problem now is that technically I have cleared immigration, which means I can only stay within the county for 24hrs, I feel it would be a good 48hrs before it starts blows through. The wind is ok at around 28kts and I am anchored away from any main port, there is also an un-written agreement that should you encounter difficulties either through weather or mechanical means they will look the other way for a short period.
I thought I would I add to days (Saturday) weather info;
OFFSHORE WATERS FORECAST FOR THE SOUTHWEST AND TROPICAL NORTH ATLANTIC AND CARIBBEAN SEA NWS TPC/NATIONAL HURRICANE CENTER MIAMI FL 430 AM EST FRI DEC 1 2006
OFFSHORE WATERS FORECAST FOR THE CARIBBEAN SEA AND TROPICAL N ATLC FROM 7N TO 22N BETWEEN 55W AND 65W
AMZ089-011530-
SYNOPSIS FOR CARIBBEAN SEA AND TROPICAL N ATLC FROM 7N TO 22N
BETWEEN 55W AND 65W 430 AM EST FRI DEC 1 2006
SYNOPSIS
1035 MB HIGH PRES OVER THE CENTRAL ATLC IS MAINTAINING STRONG TO NEAR GALE FORCE WINDS OVER MOST OF THE CARIBBEAN BASIN.
WINDS AND SEAS WILL GRADUALLY DECREASE SAT THROUGH MON AS THE HIGH WEAKENS AND SHIFTS E. WINDS AND SEAS WILL INCREASE OVER THE WESTERN CARIBBEAN MON AS STRONG HIGH PRES BUILDS TO THE N.
It looks like I will make a move tomorrow at sunrise, although it will be a little lumpy I do need to move on now.
The Boat:
At around 01:30hrs local time, that's 05:30hrs (GMT) the wind generator stopped working, as there was little I could I waited till the morning to check what was wrong. The bracket it is mounted on had moved around 5 degrees, that and the 28 amp an hour it can generate at 30kn of wind had caused the 50amp fuse to blow. If you recall back in February this year the fuse blow and I had to make a fuse because we could not buy one. It uses a Ventus fuse, as used in anchor windless systems however I have been unable to purchase any 50amp fuses since, not even in Trinidad one of the best stocked areas in the Caribbean. Once again I made a 50amp fuse up, relocated the bracket, fitted the fuse and hay presto, we are generating steady 15amp, occasionally 20amps an hour.
Fair winds and calm seas.
David.