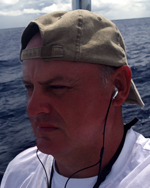 Position 13°07'969N 061°12'326W
At anchor off Young Island, St Vincent.
Hi dear friends, thank you for following my journey. Here is this week's update.
What a relaxing time this week has been, the spring clean is finished so I have just been liming out.
Life onboard:
As previously mentioned the spring clean is over and so I turned my hand a designing a cocktail for Pinta. I have been sailing for some time and have not come across a cocktail for a 'Sundowner', so in the course of research I went to the local store and purchased some items to try, the local white Rum was a good buy at 85% proof and at a cost of around $18 (ECD), that's £3.80. The local dark Rum was a good buy too coming in at 45%, $14.50 (ECD) or £2.90
So it was that I set out to play around with various combinations to achieve the perfect 'Sundowner' cocktail. The idea was to recreate the colour of the sky out here at that time of day, so basically orange or red.
For those who would like to try the Pinta 'Sundowner' here is the recipe. Note as I have no measurement cups onboard I have utilised an egg cup, so hence the term 'eggies'.
Enough for three servings, ok, two nice size servings.
2 or 3 eggies of dark Rum, minimum 45% proof
1 or 2 eggies white Rum, minimum 85% proof
150ml Orange juice
150ml Pineapple juice
1 tea spoon Coconut cream
2 small ice burgs
Shake and serve, always the best way lol..
This is a nice, not too strong mixture however you will notice there are several options for the Rum servings, this is to allow a little flexibility depending on how bad your day has been.
Be careful with this, using the full measures I lost the engine key and had to use the spare. It took me three days to find it for although I had put it away, it was just not where I normally would do so but then I did experiment with the measurements that first night so in all I had about six of them, hick…
One funny moment though which happened Friday morning, after doing a rubbish run and the last minute shop I was returning to Pinta when the outboard motor stopped midway. About quarter of a mile out with another quarter to go. I do not put the oars onboard as they get stolen all the time out here, so I started doing my Jesus thing, no not walking on water but paddling using my sandals. After a short time two very kind people turned up in their dinghies to tow me. What happened next could not have been written any funnier, yep you guessed it, the dinghy towing me also suffered engine failure. So it was we started drifting with the Caribbean breeze.
We drifted passed what has to be the biggest cat I have seen out here so far, 'Eco Cat'. They very kindly towed us both back to our respective boats. I am not sure what the other engines problem was but mine was 'missing' or 'evaporated' fuel. I always check the fuel level and I had more than enough for at least four trips (using the internal fuel tank) but on checking she was dry.
The Boat:
You may recall the sail back last week from St Vincent, well during the sail I noticed the standing rigging (that is the wire holding up the mast) was a little too loose. Later while resting on deck I also noticed that the last third of the mast was being pulled to the Port (left) side. Both of these could explain why my up wind (sailing against the wind) performance had dropped off, something I had noticed for a while now. The slackness of the forestay (front wire) was easy to understand as you may recall I replaced that, wow nearly a year ago. How does time fly. That was in Abidjan (Hi all, hope all is quite there) and although I took the slack out when in Ascension Island obviously a little more adjustment was needed.
A few hours later the mast was straight (Port & Starboard) and then I introduced a nice bend pulling the mast aft (to wards the back of the boat) so to tension the forestay.
During the sail back to St Vincent she sailed like a dream up wind although just a slight adjustment would be needed on the bottom stay. The rigging should be loose in around 15-20kn however the inner stay was loose at 12kn so another turn or a turn and a half was needed.
Fair winds and calm seas.
David.