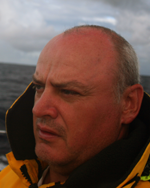 Position 11°19'776N 060°44'227W
At anchor, Charlotteville, Tobago.
Hi dear friends, thank you for following my journey. Here is this week's update.
How quickly time fly's bye, it only seemed like yesterday I was sitting writing last week's update.
I have two of my son's flying out this coming week so I am looking forward too seeing them after a year away. I also have some news about Woody, taken from an email sent by his skipper onboard SV Artemis.
"Woody left the boat in Kiel and has gone backpacking off around Scandinavia, his first stop was Gothenburg where after that I don't think he even knows. All depends on how far he can carry all his baggage. He has plans to roam for a while."
Ok, time to move on.
Life on board:
Now is this not my luck, a new barmaid started at my local a few days ago and on my last night here I was being a little cheeky and said can I get a 10% discount for cash, and I did, why could not have happened weeks ago, ah well. still I met up with friends all night long so it was party night until the early hours. Think I got back at, no, cannot remember.
How nice it was to be back at sea, albeit under motor for there was only 4kn if wind and head on. Just after clearing the 'Bocas' and entering Gallons Passage I deployed the fishing gear, ten minutes later a nice 40cm long 'Atlantic Herring'. Within a few moments it was gutted, cleaned, filleted and in the freezer area of the fridge.
24hrs, I arrived at Charlotteville, Tobago. A very beautiful little horse shoe shaped bay surrounded by hills, blue sky and turquoise coloured Caribbean Sea. On the hill to me right are around a dozen little shacks / houses dotted a sparsely while to left is the village, a collection of a few government buildings to the rear while along the beach a few stalls selling coconuts, cut at the top, once purchased that is then you just drink out that. Truly refreshing and better than any commercially produced tinned drink, apart from beer of course. Palm tress all along the beach
Set back slightly are several bars, again surrounded by palm trees. So after clearing with immigration and customs, I returned back onboard for a little sleep, but I was too tired so I prepared the hammock, the BBQ. Got the fish ready and then made English style chips.
Once the BBQ was alight, I relaxed in the hammock (while it reached temperature you understand) with some cold beers in arms reach and just limed for a while. Later with my 'Atlantic Herring', English style chips served with 'Sarson's malt vinegar (I running low, next supply team), Tesco's finest table salt and HP brown sauce I sat down at sunset to enjoy a cracking meal. All accompanied with a nice cooled glass (or several) white wine.
An hour later and a few drinks, I turned in for the night after all it was now 19:00hrs.
The boat:
It was time for the monthly steering check, a slight adjustment and all was okay. Other than oiling the teak, that was it. Good girl.
You know like most relationships, and yes owing and living on a boat is a relationship, after all a ship is a she! If you look after her, give her the attention, the care she deserves and respect, she will always be there when you need her most. Em I wont go there!
Fair winds and calm seas.
David.