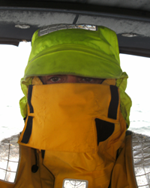 Position 11°17'545N 060°40'300W
At anchor, Englishman's Bay, Tobago.
Hi dear friends, thank you for following my journey. Here is this week's update.
The longest day; that was on Thursday, the day two of my son fly out to Tobago. The flight was delayed by some six hours in the UK so they finally arrived at 21:15hrs, that is 02:15hrs BST. Adam the eldest will be flying out later in the year for he currently has a busy time with his University studies.
Life on board:
What timing for Billy and Harry to visit for it we are currently going through the hottest and driest period of the rainy season so far with the past six days being very hot and dry, humidity around 95%. It has been a time for just liming around in the hammock, fishing, swimming from the aft of Pinta or indeed just enjoying the beaches along the Island.
The past few days I have been sailing along the West side of Tobago to the remote beaches where Pinta will be the only vessel. We are currently anchored in 'Englishman's Bay which is approximately 2/3 along the coat heading North.
This is a beautiful little beach where the rain forest comes right down to meet sea, with amazing clear waters and golden sand completely surrounded by the rain forest. No shops, no noise, nothing but the tranquil sound of water breaking along the beach, the slight movement of Pinta upon the sea which not only ease's you to sleep at night but also causes the stars in the heavens above to dazzle you as they appear to dance around above my head as my head rests upon my pillow.
The boat:
One of the most serious and catastrophic failures happened onboard Pinta this week and one for once I have been unable to repair it. The CD player decided to pack-up and although I stripped it down and cleaned the laser head it would appear that a sensor which tells the system that a CD is in the machine is the cause of the problem. A repairable job in the UK for it is only a small reed switch; here it is time to source auto-shop for a replacement. Hopefully in Grenada.
Well my friends take care and as we are well into the school holidays by now I hope you are all having a wonderful time.
Fair winds and calm seas.
David.