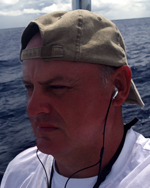 Position 17°46'265S 177°11'204E
At anchor Musket Cove, Mololo Lailai Island, Fiji, South Pacific Ocean.
Hi dear friends, thank you for following my journey. Here is this week's update.
I am sorry to report; the ongoing poor propagation means you may receive this email a little late. Basically, when I can here Radio Australia on 12.100.00MHz AM, good and strong I can normally connect to Auckland, however for the past three weeks the signal has been weak, at best.
However, judging by past response I know most of you like to receive the updates, even if they are a little behind, so with that in mind here goes this weeks update.
Life Onboard:
After spending a wonderful weekend here once more in Musket Cove I decided to move on for a few days.
Oh to be free upon the Ocean once more, well for at least four hours for I attempted to sail although ended up motoring most of the 20 miles to Latouka on Viti Levu, Fiji's second city. I need to restock up on supplies so I thought I would check the city out. I was less than impressed with Latouka, I can normally tell if I am going to like somewhere within minutes of being ashore, you get used to soaking up the ambience of places the more you travel.
Although, as usual around these parts the people of Latouka where very friendly the area itself was too industrial with burnt out black chimney embers covering the boat when the wind eased away. This meant one had too wash off the decks every morning, the most serious and major impact to life onboard Pinta was leaving skylights open.
Going to sleep, under my usual blanket of stars as I lay on my bunk looking out through my skylight was not possible here, that is unless you wanted to wake up looking like a marine just about to go on a raiding party.
I returned a few days later to Musket Cove.
As mentioned last week I am feeling a little low her in Fiji, low because I feel I am not doing Fiji justice by seeing more of her islands, I have tried kicking myself up the 'backstay' (arse) however one I my biggest passions, apart from sailing that is, is Rugby. Here in 'Dicks Bar' the security will let you in during the night so to watch live world cup rugby.
Dicks bar, is the original bar here on the island. The island was purchased by two Australians who have slowly developed the island. One of the main features, which is still in place would be a sailing boat who's stern sticks out into the swimming pool. Legend has it that it was washed up there during a winter storm, they decided to leave it there. The only alteration was cosmetic, i.e. so to make it look part of the pool rather than like it had been dumped there.
Back to the rugby; Although England are playing like a second rate team they did manage to progress to the play offs. England v Australia on the 7th October will be a much sterner test of the how well the are, or indeed how poorly they are playing.
I awoke at 02:00hrs on the 30th September with the intention of going ashore to watch the Fiji v Wales game however there was a stiff breeze, that I appeared to have 'cold' like symptoms which made decided to 'turn' over and return to the land of nod. I do not like leaving Pintat while a stiff breeze blows just encase she should (touch wood) drag her anchor. The holding here is not he best, although mud it is very soft and therefore any sudden change in boat direction can and has caused several yachts here to 'break-out' their anchor. With a stiff breeze blowing and the reefs only metres away the time required for an anchor to reset itself is not an option.
The Boat:
I noticed part of a split pin laying on the deck, after closer examination I found that the split pin from the goose neck (fitting which connects the boom to the mast) had sheered off.
I replaced it with a new one.
The Teflon roller which the anchor chain ride over has decided to stop rotating, after a quick check I found that the starboard side of the fitting had been slightly pulled outboard. This has been caused by the pressure placed upon it while at anchor. As the wind blows though in gust at times Pinta surges to one side or the other. This 10mm plate has been twisted slightly outwards thus not presenting a level side for the roller to run against.
I held a peace of wood against the plate then belted (gently hit) it with a hammer so to ease it back into shape.
The rest of the weeks has been taken up with preventative maintenance, a spray off silicone here and there, a look around for any other signs of problems etc. I am please to report nothing untoward was found.
Saturday, although a little groggy after being up late, or to be more correct, early that morning to watch the England v Tonga game. I scrubbed the hull then gave her a good polish.
As per our agreement Pinta looks after me at sea, I look after her in port.
Fair winds, calm seas.
David.