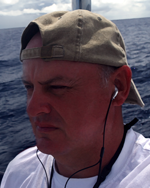 Position 17°30'78S 149°51'02W
At anchor, Robinson Cove. Moorea.
Hi dear friends, thank you for following my journey. Here is this week's update.
La ora na (like 'your honor') good morning from Tahiti and her islands.
I strain my neck as I cross the hill behind Moorea's Sofitel la Ora Moorea, for they're across the sea of the moon sits Tahiti in all its green glory. What amazement the early explorers must have felt when those mountains appeared over the horizon.
Life Onboard:
As it was in Cooks day where the island would put on a 'Heiva' or festival for a visitor, or indeed for any reason, I had now experienced the Tahitian 'Heiva for myself. Tahiti and her people have a kindness and a stark beauty all of there own, they will always have a special place in my heart.
On Wednesday afternoon we went to the Tahiti museum where they had been running ancient games all week, today however was the final. There was javelin throwing where over 80 people had to try and hit a coconut suspended 30 feet in the air. Next was the coconut harvesting competition, here you used an axe to break open around 30 coconuts, then you had to remove the coconut from the shell.
A small break for a traditional dance, grass skirts and coconuts. A dance I had now become to appreciate more and more during my stay here, from a purely intellectual point of view you understand and nothing like how cook described it; 'The young girls whenever they can collect 8 or 10 together dance a very indecent dance which they call Timorodee singing the most indecent songs and using most indecent actions in the practice of which they are brought up from their earliest childhood'
Captain James Cook after seeing his first Tahitian dance show in 1769
Okay, so it was like he described it (laugh).
Back to the events, next was the stone lifting. 80Kg, 100Kg, 120Kg, 140Kg then 150Kg. A truly amazing sight to behold.
Ok, now back to the intellectual part once again, sorry but this is Tahiti after all.
Two variations of the Tahitian hacker then a fire dance display, a truly wonderful night.
The night before we departed Tahiti we held a get together onboard Pinta and as if on queue, a firework display showered over the marina opposite. A wonder end to our stay in Tahiti. So it was that on Thursday morning we departed Tahiti on-route to Moorea;
Pai's Spear
Tahitian lore says the legendary hero Pai made the hole In the top of Mount Tohiea when god of thieves attempted to steal Mount Rotui in the middle of the night. Pia threw his spear from Tahiti and pierced Mount Tohiea. The noise woke up Moorea's roosters, whose commotion alerted the citizens to put a stop to the dastardly plan.
What can I say other then this has to be one of the most beautiful anchorages in the world, a small bay hidden behind the main anchorage, itself protected by a reef. We are now anchored where fellow sailors before have done so, such ships and their captains as H.M.S. Resolution with Captain Cook (Second voyage) and H.M.S. Bounty Captain Bligh.
I have anchored about 60 metre away from the shore, a stern line secures Pinta to a palm tree which prevents us from swinging, 400 metres off our Port beam lies a stream which is fed from waterfalls high in the hills. This very stream is where Cook would have sent his crew ashore for fresh water, indeed I am currently at anchor where the 1983 film, Mutiny on the Bounty was shot staring Mel Gibson and Anthony Hopkins, by accident we watched the movie the night we dropped anchor here, it was as if we were there actually watching H.M.S Bounty round the cove and drop anchor next to us with Moorea's peeks behind us. A strange feeling I can tell you.
From the sea Moorea has changed little for what development there is has been manly hidden behind the greenery, there is a road going around the island but again this cannot be seen for it was constructed behind the islands palm trees, so in the early morning or evening it looks like it would have done during their times.
Unfortunately however I have to say that the images one has in ones mind of over 500 'Vaa' (Canoes) paddling out to visiting vessels occupied by beautiful, scantily clad girls welcoming you with flowers, fruit etc has, I am sad to report this has not been carried on through time. It would appear that an observation made by Captain Cook has come true after all, if only for missing out on such a welcome;
It would have been far better for these people never to have known us Captain Cook 1769 However the beauty here, anchored surrounded by tall green covered hills with palm tress all around us, sun beams shine around the hills during the suns golden hour (a term used by photographers as a time of beautiful natural light at either sunrise or sunset) showing every colour possible is truly breathtaking. This is truly an enchanted Island
The Boat:
The shroud was finally ready on Tuesday, within an half an hour it was fitted and tightened correctly. I also took the opportunity to check the rigging at the top of the mast. I had noticed recently that the furling gear was not running smoothly, this was due to a space falling out of place from the top foil. I refitted a replacement and it works fine now.
A slight adjustment on the new steering cables alignment was required upon our arrival in Moorea, the wheel was two degrees out from amidships (centre), this was correct on Friday morning.
Fair winds, calm seas.
David.