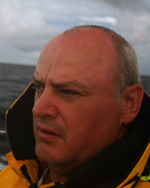 Position 17035'003S 149037'157W
At anchor lagoon 'Punaauia' Tahiti South Pacific Ocean.
Hi dear friends, thank you for following my journey. Here is this week's update.
'Manava' (welcome 'I open my heart to you') to paradise which is Tahiti and her islands.
It is with a heavy heart that this will (might) be the last weekly update from Tahiti, a wonderful place you will find hard pressed to equal.
Life Onboard:
A quite this week for a change with the final preparations onboard getting Pinta ready for sea once again although as usual now in Tahiti, the yardarm is getting lower every day. Here it is too expensive to drink ashore, instead we spend most nights on other boats, each brining food, drink etc.
During the last few weeks this has been starting earlier and earlier as everybody finishes their repairs, often starting at, well, way before the sun sets over the yard arm, hence we have decided to lower the yard arm for refusing a cold beer offered from another vessel can not be done (laugh).
Saturday 14th was a day of rest among days of rest for we spent many an hour ashore socialising, ok drinking if you like at the '3' Brassiere's. A bar, which makes their own beer on-site, right next to the bar. A lovely meal, Duck in orange an raisin sauce. One of the things the French can do well is food.
Here they produce three beers, 'Blonde', Amber' and 'Blanch'. The price is nearly the same as the mass-produced beers at around £5 ($10) a pint.
The Boat:
As all the jobs onboard have been done, that is apart from the shroud, which has been promised for either late Monday, early Tuesday and the leak from either the engine-cooling pump and or moulded hose. The leak I do not want to touch, it is not bad underway, just will the engine is not running. I feel it would be a one-way trip I even attempted to look at it here so it will have to wait until I reach New Zealand in November.
I have spent the last six days applying 'nano' polish to the hull, none coats in all. The beautiful sight of water reflected off Pinto's hull as it caresses her hull, the sun during its golden hour lights up Moorea, it is almost hypnotic.
Nano polish applies micro modules which fill any gap within a surface, applying many coats builds up a lasting shine.
Fair winds, calm seas.
David.