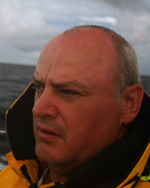 Position 10°40'614N 061°38'4184W
At anchor, Chaguaramas, Trinidad.
Hi dear friends, thank you for following my journey. Here is this week's update.
I was hopping to leave Trinidad on Monday but this will not happen until around Wednesday due to a technical problem with the water maker. Other than that life here is much the same as normal, okay as normal as it can be with 36°C, glorious sunshine, lovely girls everywhere and cheep beer.
Life on board:
Well I am sad to report it has been another week of sundowner's and late nights or should that be early mornings, as I write this it is 05:00hrs and I have just returned for another quite night out here in Trinidad.
The little community here has been growing once again after visiting several vessels for evening meals / sundowner's, the best of which was onboard the sailing vessel 'September', an Austrian couple who have taken a few years out to sail the world. Also joining us was a German couple from the sailing vessel 'Dude' who have taken three years out to sail the Caribbean. Karlos and Rosia also joined us for what turned out to be a very entertaining night of Panamanian and Austrian cuisine and of course the obituary drink or two / three / four hick…
The boat:
The water makers DC motor decided to pack up after only five motor hours, the local company who manufacture it are looking into it now. I do not mind for I would rather it breakdown here than in the middle of the Pacific.
Pinta has been fitted with her Bimini, awning and sail bag as well as the sails after some modifications. A part from that the only other work onboard was the fitting of the solar panel to a fixture I had made above the rear of the Bimini. Then re oiling the teak followed by a big clear which is still ongoing to clear away the excess junk collected during the past 9 months, many of which have been or will be donated to local charities.
Well my friend's thank you for your emails, which I look forward to every time I log on. Take care and have a great week.
Fair winds and calm seas.
David.