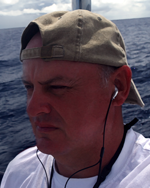 Position 10°40'614N 061°38'4184W
At anchor, Chaguaramas, Trinidad.
Hi dear friends, thank you for following my journey. Here is this week's update.
We are well into the rainy season with a daily down pour at around midday although yesterday's was an amazing thunderstorm; you have never heard such thunder.
Life on board:
I am not sure how many of you have been following the football; here it has been a magical time. The atmosphere was out of this world during Trinidad & Tobago's first game. Later when England played them I was the only Englishman there, surrounded by over 80 trini's so I had to make myself heard, even now my voice is only just about functioning. I arrived at 09:00hrs for the traditional 'bake n shark' breakfast then free food during the game and a special on the beer too, buy one get one free. During the evening a steel pan band turned up (you had to book these guy's six months in advance) so it was party time, the local girls were out in force and shaken it until around midnight. What a day that was, one to be remembered.
Most of the papers here yesterday (Saturdays) had the headline 'Trinidad expects England to do it's duty', by that they mean beat Sweden by at least two goals. Apparently if we do so and T&T win their next game they go through.
The sundowners are gaining momentum and so is the suffering the following days, but then it would be rude not to turn up now wouldn't it. Tonight it is my turn, I have prepared some 'jerky' chicken (which apparently I do rather well) which I shall BBQ also some herbie potatoes accompanied by a create of the finest local beer.
Because Monday is a national holiday here I will now depart Trinidad midday on Tuesday, this gives 30 hours or so to get to Tobago before some friends arrive from the UK for a holiday onboard. The 'jerky' chicken will be waiting for you. 'Jerky' is a West Indies traditional marinade / sauce used with meat, fish etc.
The boat:
Just as I thought Pinta was ready to depart early next week for Tobago she decided she liked it here for the throttle mounting which retains the Morse control cable parted so I was unable to slow the engine down.
This part was not available here but I managed to rotate the fitting 180 degrees, this held the cable tight in the up and down direction but not sideways, although this movement should not happen I used some liquid metal (a resin-based compound) just make sure the cable stayed in the bracket. All works fine.
Fair winds and calm seas.
David.