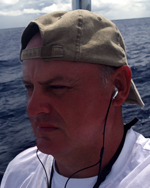 Position 11°09'51N 060°50'543W
At anchor, Store Bay, Tobago.
Hi dear friends, thank you for following my journey. Here is this week's update.
I hear NOAA have revised their hurricane predictions for this year, they seem to be thinking like me that this year it all may happen towards the end of the season so I think a busy mid September (after my birthday please for I spent last year at sea and I so was looking forward to sitting a dockside bar just liming around this year) thereon.
Life on board:
After another week of enjoying, the beautiful sights, which is Tobago, it was time for Billy and Harry to return back the UK, there flight, should have departed at 13:34hrs on midday Thursday but was cancelled. They stayed another day (and a bit) departing at 02:00hrs Saturday morning.
So it is I once again adjust to being crew less now that my helmsman and navigator are safely back home, with that in mind the plan was to leave Store Bay and move on up the West side of the Island, back up to Charlotteville to clear Immigration late Monday then depart Tobago at sunrise on Tuesday heading for Grenada but, like all my plans they are flexible for I heard yesterday that the annual Trinidad to Tobago powerboat race is to be held this coming weekend, now knowing the locals like I do, a party should surly follow, in fact it will be party weekend although the official 'after' race party is not being held until Saturday evening, starting at 21:00hrs and ending when either the beer runs out or there is know one left standing.
So, one just might have to delay ones departure to investigate this little local race and if one should end up visiting the small, intimate social gathering afterward then so be it.
The boat:
Pinta has once again been a good girl this week with nothing to report.
I hope you are all still enjoying yourselves back home, only a few more weeks of summertime left, time to relax with the family on a lazy Sunday morning or take the children to a theme park (or two) before school restarts.
Fair winds and calm seas.
David.