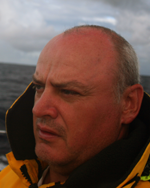 Position 050°20'131N 004°01'953W
Abidjan, Ivory Coast. North Atlantic Ocean.
Hi dear friends, thank you for following our journey. Here is this week's update.
We have now been in Abidjan for nearly three weeks, Peter is safely back onboard, the broken parts have been replaced and were ready to go.
As previously mentioned the main part has been replaced, i.e. the forestay while the other parts were finally rescued from the airport today by Richards driver. These will be fitted in Cape Town.
It has been a good week although a busy one. Thursday night after the little drink at the ambassadors residency we went to the local hang out where Richard treated us to a meal on his expense account, so to all you tax payers back in the UK we thank you for not only the champagne but the meal also. After the meal, I arranged with Gwen the owner for a meal for me and peter on the Sunday night, as this would be our last fresh meal for a while.
We spent 9 hours on Friday fitting the forestay and associated parts, we had a slight problem with the new one in that for some reason the manufactures had decided to upgrade the wire form 7mm to 8mm. Although this would be a problem, the eye terminals were also upgraded being some 2mm wider. They were a tight fit inside the aluminium tubing, which makes up part of the furler system.
Friday night was also crumpet night, as there is very little 'crumpet' around here we would have to supply our own! We arrange for my sister to give Peter 48 crumpets the idea being Gwen would cook these for the all in the bar of Friday night. It went down well.
Saturday we took our friends here out for a few hours sailing followed by a swim in the sea returning a little late for the beginning of the England V New Zealand rugby match, a close game although we lost we should be proud of the way we played. Followed by a few drinks at the local, eh and yes more crumpets.
Sunday we spent another chill out day at the guy's place, had a swim in the pool then a BBQ followed by a few drinks at the local. I wanted to explain to Gwen that we were full and could we not have the meal but she said I want to do this for you guys, so the meal was on the house. We managed somehow….
Fair wind, calm seas.
David.