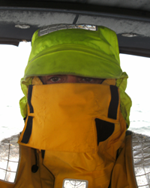 Position 00°37'527N 002°30'952W
North Atlantic Ocean.
Hi dear friends, thank you for following our journey. Here is this week's update.
Pinta slipped here moorings on Monday morning, Mike, Jo and Leon came down to see us off. It was emotional moment for me, a rather gut wrenching one. It was more like saying goodbye to old and trusted friends rather than friends we had only met some three weeks previously. I had that feeling you get in your stomach and goose pimples on my arms as we motored away from the moorings.
One cannot explain how it felt to be back at sea, dolphins surrounding us as we leave Abidjan on-route to Cape Town.
The first few days time went slow as we tacked back and forth in a light headwind, later the wind settled to a more favourable direction.
Fair wind, calm seas.
David.