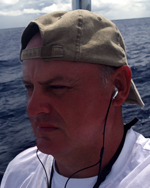 Position 07°55'251S 014°24786'W
At anchor, Georgetown, Ascension Island, South Atlantic Ocean.
Hi dear friends, thank you for following our journey, before I carry on I have to apologise for the lack of communication during the past four weeks or so. Emailing from Abidjan was near impossible.
My thanks go to our new friends we made during our stay and to all within ONUCI for without their help we would still be in Abidjan. Also my thanks to Gordon and his colleagues serving in the RAF based in Ascension.
Here is this weeks update.
Firstly I have four 'Weekly Updates' composed but not sent while in Abidjan so if anyone would like me to send them to you, drop me an email.
Well it has been an interesting week here in Georgetown, Ascension Island. Our departure has been delay for five days as there is currently no milk on the island, the RMS, the fortnightly supply ship did not manage to bring in the usual quantity on its last visit. She is due in on Wednesday so once unloaded and the shop is restocked we will finish our shopping.
The only decision now would be to which port do we sail to next, Rio de Janeiro is top of my list as it would only be a twelve-day sail. This would get us in port in time for the New Year calibrations, this combined with the Mardi Gras in February would be some welcomed R 'n' R.
Then the plan is to go to the Caribbean however, the sailing season starts there in November and last until June therefore, the idea is to go to Trinidad & Tobago for the carnival in April, stay there for three months then move onto Grenada for three months. This should then keep us clear of the hurricanes, which very rarely go below south of 12°40'N. The hurricane season run between June and November, so once clear we would then spend the next six months sailing around the Caribbean. After that we would sail through the Panama cannel and over to Hawaii. Well that's plan 'B', let us see how we get on.
Life on board:
The climate here is just about right with temperatures around 26°C with light winds and so far always dry, that is apart from the crew who on two occasions now on our return from the Saints club keep falling in the sea as he tries to get from the dinghy to the boat ϑ
We have managed to top up our water tanks by ferrying two 25ltr Jerry cans back and forth.
The boat:
We have manage to temporary repair the steering while the cooker gimble was drilled out and a stainless steel nut, bolt and washer were to replace the broken pivot bar.
The deck boards below deck need to be rubbed down and re-varnished, a job when in our next port of call.
Well that is if for now I hope all of you are ok, take care of yourselves..
This weeks quote, 'Among the many costs of cruising is the loss we feel when our paths take us away from the one's we've come to love'
Fair winds and calm seas.
David.