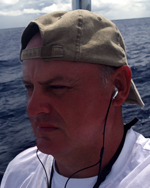 Position 10°40'614N 061°38'4184W
At anchor, Chaguaramas, Trinidad.
Hi dear friends, thank you for following my journey. Here is this week's update.
A time to adjust to being on one own again as my sister and friends depart and return back to the UK, they should arrive back home around 18:00hrs today.
Life on board:
Life onboard Pinta can often be different and so it was for our visitors, the planned relaxing holiday turned out to be more like an adventure holiday but still very enjoyable. They all ended up doing things they probable never dreamed they would do, yet still having a fun time.
A special thanks to 'Dave P' for the photo, I cannot go into it hear other than to say 'nice one'.
Some of the highlights I will always remember would be;
David.'s entry and exit from the dinghy, this was more like watching one of the great Norman Wisdom films. Very entertaining and could this be awarded points like in ice skating it would read 9 9 10 8 7 etc for artistic impression and 10 10 10 10 10 etc for style and 0 0 0 0 0 etc for grace. Well done David.
Sharon (my sister), well what can I say she is a diamond and surprised by the way she enjoyed using the dinghy, often going for a trip around Chacachacar Island.
As for Julie, she ended up steering Pinta in pitch black while David. was in the dinghy tied alongside Pinta using it's outboard engine to move us while I gave directions from the chart table. The steering was done under difficult conditions as the cable had come loose (read below).
All in all it was a great two weeks, only a shame too end so soon. Thanks to you all for your great company, it was nice to see you all after nearly a year away from the UK.
The boat:
The gearbox problem turned out to be something really simple and was diagnosed while taking the gearbox from the boat to the shore. The previous owner had used gearbox oil instead of engine oil, this was enough to cause the box to fail. Once flushed out and filled with the correct oil it worked fine, saving me a small fortune in the process.
The LED navigation lights were fitted and are working fine and David. has returned home fitter than ever after winching me to the top of the mast twice.
The steering problem I experienced on the way to Tobago a few weeks ago now (wow does time go quick) turned out to a nut vibrating loose from the steering cable. This was caused by vibration in the rudder due to coral growth and although the nut had been fitted with thread lock it still came loose.
Fair winds and calm seas.
David.