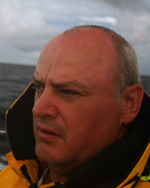 Position 10°40'614N 061°38'4184W
At anchor, Chaguaramas, Trinidad
Content:
Hi dear friends, thank you for following my journey. Here is this week's update.
Another week enjoying the delights of Trinidad, a warm sunny week full of Brimie's. That's South African for BBQ's.
Life on board:
The world cup final was a great day here with free food and plenty of beer around. I met up with two South African couples and we had an enjoyable time watching the game then later… quite a lot later we left 'Sails' restaurant returning to SV Odyssey for a 'Brimie' and several bottles of whisky.
A few days later I was helping out Jeremy from SV Odyssey with a computer problem but once again the chilled to perfection beers started flowing, I returned back onboard in the early hours fairly drunk and so the boat to dinghy then the dinghy to boat proved to be an interesting time. Not actually falling into the water although I did fall into the dinghy when disembarking SV Odyssey.
Tonight it is my turn so I have prepared my special 'Jerky' chicken all I have to do now is to get the beer and wine so a trip to the shops once this update has been sent although I am a little delicate after going ashore yesterday for one or two lunchtime drinks at midday, unfortunately as it often happens out here I ended spending the day and evening there. Needless to say it turned out to be a most unusual and interesting evening!
The boat:
Pinta is behaving herself now that we are once again alone together with the only planned maintenance will be repairing the gel-coat, you know the little knocks she has taken during our sailing so far.
Well I think that is about it for this week, have a relaxing and enjoyable week. I know I shall.
Fair winds and calm seas.
David.