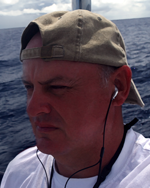 Position 12°02'585N 061°44'876W
At anchor, The Lagoon, St George's Grenada.
Hi dear friends, thank you for following my journey. Here is this week's update.
It is surly nice to be back in the Caribbean after paying a surprise visit back to the UK for Christmas and New year. Then a trip to the London international boat show.
Life onboard:
Time to get the hammock out and get back in to the Caribbean way, fishing rod on my right hand side and a rum in arms reach on my left side. Oh life can be tough out here but someone has to do it!
This week has been a good week, I brought my sister back out with me for a break and to get away from the English winter. We had a beautiful sail from Carriacou over to Grenada stopping fist at a deserted Island called 'Sandy Island'. Although a little rolly it was very beautiful and quiet, a beach all to our own. A nice evening meal made for a wonderful end to the day.
We departed at first light for a very small fishing village at Woburn. Just after lifting the anchor Sharon asked if it was ok to sunbathe at the bow, after agreeing she sat there during our motor around the Island. She sat there holding on for dear life as we went up and down some 3 metres waves, getting soaking wet, I asked was she all right, as she turned around and smiled, I carried on.
Shortly thereafter at anchor, myself and my crew walked 4 miles to St Georges for petrol. On the way back we purchased a case of beer then made our way back onboard where Sharon (my sister) was just chilling.
Later me moved on to the Lagoon at St Georges, the sail took around three hours, Sharon returned to the bow to soak up the sun for the later two hours of the sail. As the wind reached 20kts and waves started to continually keeping the bow nearly always wet she continued to 'ride' Pinta like a bucking wild horse, sore bummed, soaking wet and tits hanging out as gravity decided that the sack holders where not man enough for this kind of treatment she finally managed to return to the cockpit. What a sight, boy she looked rough but then she had a great time, I think!
On our arrival we anchored then ashore for a beer or two at the yacht club.
The Boat:
Nothing to report other than the usual 'boat' back in the water problems after being on the hard for a month. Air in the water system, batteries a little low. The only major problem was with the electric windless switch, i.e. the up and down buttons. The unit was water logged then the down button 'dropped' off the circuit board. This would mean manual deployment and retrieval until I could source a replacement. In St Georges I found another windless control, although not designed for my windless I managed to rewire it, once again we had it all working.
It was amazing how Pinta came back to life once back in the water, she sailed so responsively and with an increase on 2kn in speed. I had forgotten how she sailed like that, it had been 15 months or so since leaving England and because the fouling of the bottom happens slowly you don't notice the drop off.
Fair winds and calm seas.
David.