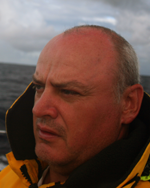 Position 15°33'351N 061°33'705W
Sailing past Portsmouth, Dominica.
Hi dear friends, thank you for following my journey. Here is this week's update.
Pinta of the Caribbean, as Pinta prepares to enter her last few weeks in the Caribbean it has been a week of saying good bye to just some of the friends we have made during our voyages around the Caribbean.
Life onboard:
We are currently on-route to St Maartin where spares are waiting for us upon our arrival. So far it has been a great sail with winds of 30kn and an average speed of 6kn, 6kn is not so bad when you consider we have been sailing in the Lee of three Islands. With her new bottom paint Pinta is happy to sail at more than 8kn in such winds but we are not in any rush to arrive in St Maartin. We aim to clear in on Monday morning, so as with many things in the Caribbean, we take it easy.
Whilst Pinta was on the hard in Carriacou (December 06 – Jan – 07) a message was written in the sand near bye, a message from someone who I initially met for only a brief moment while I was departing Georgetown on Ascension Island. A dinghy came bye asking directions to the immigration office, after explaining the way I sailed off while the dinghy proceeded ashore. Little did I know that whilst in Trinidad watching the FIFA football world cup of 2006 many months later we would meet once again. I was standing at the bar (how unusual is that for me) when this stranger came in and ordered a drink. After recognising each other I spent many a happy hour or two with him and his wonderful family during my stay in Trinidad.
OK, back to the message, simple email address was written in the sand. My crew who stayed in Carriacou 'boat watching' for me later passed on my email address to them. Upon my return we made contact and arranged to meet up in St Lucia as we would pass them during our sail back to St Maartin. I arrived in Castries, St Lucia, looked around but no SV Odyssey (the name of their vessel) so I motored to Rodney Bay then to Marigot Bay but still know sign of them. I spent the night in Marigot Bay before returned to Rodney Bay the following morning. An email download as soon as I connect to the free WIFI, it was from them saying where they were. I quickly cleared out and motor sailed the 14 miles to the 'Pitons' near the town of Soufriere.
We quickly found ourselves having a few (yeh right) beers and catching up on our different voyages of adventure around the Caribbean. We returning back onboard Pinta in the early hours of the morning, then as arranged we once again we returned to SV Odyssey for brunch before saying our farewells. We departed St Lucia for the last time at 12:56hrs (L). A special thanks to Kila and Max for the wonderful cards you made for myself and Pinta.
We were also fortunate enough to meet up with our friends on SV Aspira whilst in Rodney bay.
As with most things during my voyages I have been fortunate enough to have met the most wonderful people, to all the friends myself and Pinta have made, especially those in the Caribbean, thank you for inviting us into your life's during our time here.
The Boat:
The week spent in Trinidad proved to a positive move for those who may recall from previous updates, the computerised battery charging system had been playing up for sometime, basically it kept loosing it's programming. After performing many tests the local experts where unable to find a fault however we delayed our departure from Trinidad until Monday so they could speak to the manufactures back in the USA, they agreed to replace the unit.
Also the windless remote was also replaced with a new unit.
Fair winds and calm seas.
David.