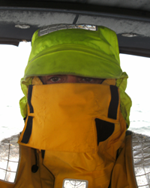 Position 18°02'582N 063°05'686W
At anchor, Simpson Bay, Dutch St Maartin.
Hi dear friends, thank you for following my journey. Here is this week's update.
A nice sail from St Lucia to St Maartin although an important member of the crew, Wilson (my dinghy) went A.W.O.L.
Life onboard:
We had two days of 30kn winds during our sail from St Lucia accompanied by a three metre swell running from the NNE. It was the wettest sail so far onboard Pinta with spray constantly coming over the starboard bow. I had originally intended to bring the dinghy onboard for the sail however although 'Wilson' does not look heavy he certainly is. It takes about an hour to get him onboard and secure.
During the sail as the swell built up so did the pressure on 'Wilson', he had a fair bit of water in him by the beginning of the second day however the swell was too much to clime aboard and bail him out, so it was no surprise that at 03:00hrs (GMT) a cry from the crew woke me up, apparently a rather largish wave came bye and took swept him away. This was purely my fault, I should have known better but we all do these silly things from time to time.
Wilson will be sorely missed as he was a reliable and loyal member of the crew, we spent many hours ashore and he always. Ok, well nearly always got me back home safely.
Upon my arrival in St Maartin I sourced a replacement at a very reasonable cost. Minute's later we were back in operation. For those who think a dinghy is just a dinghy, forget it. Out here a dinghy can be compared to your car back home, without you are really stuck although you can often wave down a lift ashore it really impairs your ability to do the day to day things that you need to do.
The Boat:
The major problem this week was down to a huge dumping of water which as sods law would have it came through between the Bimini and the Dodger. The sheer pressure of this amount of water hitting us caused not only for the first time since last August the cockpit to be centimetres deep with water but it also found its way into the 'SeaTalk' system (SeaTalk can be compared to the internet where on the internet one computer can connect to another 'SeaTalk enables the onboard systems such as the echo sounder or depth gauge not only to display its data on several outputs or screens but also for them to talk together. The same is true for the wind indicator, gyro compass and other various components which make up the 'SeaTalk' system onboard SV Pinta, this affected most of the systems onboard. After leaving them in 'standby' mode for a few hours they started to dry out.
The Wind generator system board was waiting for me upon my arrival in St Maartin, within an hour or so Casper was back in operation. The other upgrade to Pinta before entering the Pacific Ocean will be the fitting of a mechanical self steering gear, this was also waiting for me here however a slight adjustment to the way it will be fitted onboard has caused us to delay our planned departure from here by around a week. A 700mm solid stainless bar, an extension peace if you like is being manufactured this week so hopefully it should be fitted either towards the end of this week or beginning of the following week.
This was needed to clear not only the wind generator but also the radar mounting post.
The mechanical self steering equipment will be used to steer Pinta whilst I get an hours sleep. The plan is to sleep an hour, work an hour, sleep an hour etc across the Pacific. This combined with leaving the radar on whilst asleep, using its 'guard' alarm feature (The guard alarm sets parameters of a selected distance around Pinta to which should anything that enters this zone, an alarm will sound) will hopefully reduce the chances of being run down while I am asleep.
Fair winds and calm seas.
David.